5peration is a series of system updates released to celebrate Summer 2017 in South Korea.
Part 1: UI Renewal
Counter-Strike Online 2's game lobby and various UIs have been newly renewed.
Menu 1
Easy game start: By selecting the mode you want to play, you can search and enter the game conveniently.
Pre-Season: Classic Mission class, Team Deathmatch is available for regular matches.
Custom game: You can create your own room, or check the list of rooms created to enter the game.
Menu 2
My Information: You can check the status of your game usage such as total/achievement/collection book.
Campaigns: Learn how to play the game easily.
Mission: A boss who can earn various rewards. Daily missions or events can be checked.
Stores: You can buy various items that are currently sold.
License: Various firearms can be checked and licensed.
Combination: You can acquire various items by combining firearms and various items.
Broadcast: You can watch the classic Mission class in progress.
Clan: You can see the generated clan list and your own clan information.
Warehouse: You can use random boxes and coin items.
Gallery
Part 2: New Visual
Engine Update
Engine updates have improved the visuals of various characters and maps.
Part 2.5: Side Story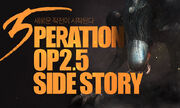 New Mode Zombie Crush Abduction is a PVE mode that you can enjoy more lightly than the existing Zombie Crush mode. It is characterized by compressed progression and growth, play and boss battle with storyline. Zombie Crush Victory in Abduction allows you to acquire random combinations of accessories and melee weapons.
Part 3: Unknown
Part 4: New Map
Ad blocker interference detected!
Wikia is a free-to-use site that makes money from advertising. We have a modified experience for viewers using ad blockers

Wikia is not accessible if you've made further modifications. Remove the custom ad blocker rule(s) and the page will load as expected.