Accuracy International AW50F

Game(s)
Overview
Aliases

AW50

Type
Designer

Accuracy International

Added since

Taiwan/Hong Kong
June 13, 2012

Japan
June 13, 2012

Singapore/Malaysia
September, 27 2012

Indonesia
October 10, 2012

Origin

Obtained by

Recommended in

Original

Price
Game point

Singapore/Malaysia
10,000 (3 days)
22,500 (10 days)
63,000 (30 days)

Indonesia
50,000 (3 days)
150,000 (10 days)
400,000 (30 days)

Turkey
16000 (3 days)
48000 (10 days)
128000 (30 days)

Statistics
Base damage

500

Accuracy in long range

100%

Recoil

52%

Rate of fire

24%

Percentage speed reduction

23% (15kg)

Knockback Power

High

Stun Power

High

Magazine Size

5 / 50

Fire Mode

Bolt-action

Ammunition

Reload Time

3.0 seconds

Secondary fire / Modes

Affiliation
Used by
Others
System name

aw50

AI AW50 (Accuracy International Arctic Warfare .50 BMG) is an anti-material sniper rifle in Counter-Strike Online.
Overview
This sniper rifle is an upgraded version of AW which holds 5 rounds for each round with .50 BMG. It boasts a strong destruction power which can even pass through walls.
Advantages
Massive damage
Penetrate several layer of objects
High knockback and stun power to zombies
Purchasable with game points
High reserved ammo (50)
Disadvantages
Low magazine capacity (5 rounds)
Very heavy
Low rate of fire
Has level restrict (Level 60)
Expensive
Comparison to Barrett M95

Positive
Lower recoil (-8%)
Shorter reload time (-1.0 second)
Purchasable with Game point
Neutral
Same damage (500)
Same price ($5000)
Same accuracy (100%)
Same fire rate (23%)
Same clip size (5)
Same reserved ammo (50)
Negative
Has level restrict (Level 60)
Delayed firing after bolt pulling animation
Despite having the same damage as the M95, its performance against bosses is abysmal, as if on par with the AWP
Users
Terrorists:
Counter-terrorists:
Gallery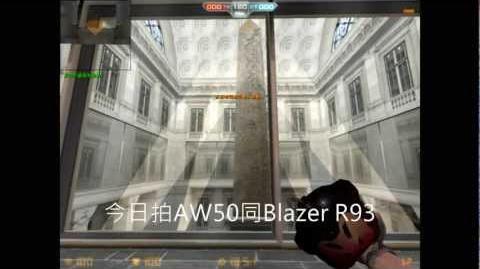 Firing sound
Reload sound
Bolt-action
Have you tried out this weapon?
Trivia
This weapon was a skin for the AWP before it was officially released.
Running while scoping with this weapon will not create footsteps noise.
The AW50, like other AWP incarnations, has three bolt pulling animations that can be seen with a model viewer. However, the third animation is a duplicate of the second.
What do you think about Panic Room?