Balisong

Game(s)
Overview
Aliases

Butterfly knife
Fan knife
Batangas knife

Type
Added since

Singapore/Malaysia
6 January 2011

CSN:Z
23 September 2014

Vietnam
26 March 2015

Origin

Price
Price in match

$0

Statistics
Base damage

Low

(Primary)

High

(Secondary)

Rate of fire

Fast

(Primary)

Medium

(Secondary)

Percentage speed reduction

0%

Knockback Power

Low

Fire Mode

Quick slice

(Primary)

Stab

(Secondary)

Affiliation
Used by
Others
System name

jknife

Balisong or Butterfly Knife is a melee weapon in Counter-Strike Online.
Overview
A small knife that is easy to carry. Although it's attack range is short, it's attack speed is very fast.
A Balisong otherwise is known as a butterfly knife or fan knife, it is a folding pocket knife with two handles counter-rotating around the tang such that, when closed, the blade is concealed within the grooves in the handles. It is sometimes called a Batangas knife. In the hands of a trained user, the knife blade can be brought to bear quickly using one hand. Manipulations called "flipping" or "fanning", are performed for art or amusement.
After the Free Update patch, this weapon becomes a free default weapon in all player's inventories.
Advantages
Very high rate of slash/stab for both attack modes
Instant kill for backstab
Free
Disadvantages
Short attack range
Low damage
Gallery
Draw sound
Hit sound
Ditto
Wall impact sound
Attack miss sound
Ditto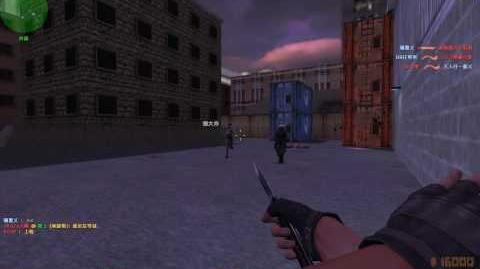 Trivia
Balisong has the same stabbing speed as Seal Knife's slashes.
In real life, The Balisong is commonly used by Filipino people on Batangas province (Philippines).
External links
Which Battle Weapons is your favorite?
Ad blocker interference detected!
Wikia is a free-to-use site that makes money from advertising. We have a modified experience for viewers using ad blockers

Wikia is not accessible if you've made further modifications. Remove the custom ad blocker rule(s) and the page will load as expected.