Balrog-I

Game
Game(s)

Overview
Aliases

Balrog-1
The Demon Hunter (獵魔者Balrog-I) (TW / HK)

Type
Designer
Added since

South Korea
January 31, 2013
July 25, 2013 (Resale)

Taiwan/Hong Kong
September 10, 2013 (Resale)

Indonesia
November 20, 2013

Singapore/Malaysia
November 20, 2013

Origin

Obtained by

Recommended in
Price
Cash point

Korea
9800 (Permanent)

Singapore/Malaysia
11500 (Permanent)
24000 (Permanent + 30 Adv. Code Decoder and Code Box)

Indonesia
80,000 Mi-cash (Permanent)

Game point

N/A

Price in match

$1500

Statistics
Base damage

41

Accuracy in long range

29%

Recoil

30%

Rate of fire

82%

Percentage speed reduction

0%
(1.85 kg)

Knockback Power

Low

Stun Power

High

Magazine Size

10 / 50

Fire Mode

Semi-automatic
Grenade launcher

Ammunition

Reload Time

2.0 seconds

Secondary fire / Modes

Affiliation
Used by
Others
System name

balrog1
BALROG-I or Balrog-1 is a modified version of the AMT AutoMag V in Counter-Strike Online ​and is part of the Balrog series.
Overview
Balrog-I is a high caliber pistol that fires 10 rounds of .50AE AHE bullets that were both developed at the Aegis Institute. It is equipped with the Balrog Charging System that enables Balrog-l to fire an explosive shot via a grenade launcher that explodes upon impact. Although the Balrog Charging System of the Balrog-1 has to be done manually, the weapon makes up for it by inflicting an afterburn effect towards targeted enemies. 
Advantages
High damage
Does not affect player speed
Large clip size for a high caliber pistol
High stun power
Grenade explodes upon impact
B mode inflicts afterburn effect towards zombies
Moderate rate of fire in A mode
Fast reload time
Disadvantages
Low rate of fire in B mode
Obtainable only for a limited time
Low knockback power
Low accuracy
Expensive price
Take time to change modes
Tactics using Balrog-l
Classic Battle
Original: Recommended as it can be a good replacement for Desert Eagle.
Deathmatch: Not recommended as it has small magazine capacity.
Balrog-l is only accurate if fired in slow pace. Firing rapidly will cause accuracy drops.
It is advisable for the user to not move when firing the Balrog-l as the weapon has unstable accuracy.
Zombie Scenario
Balrog-l is useful when surrounded by a horde of zombies. The user is advised to switch to B mode, aim for the ground and shoot when trapped by a large group of zombies.
Balrog-l is equipped with the Balrog Charging System. It inflicts an afterburn effect to all zombies within the explosive range. This effect will kill any remaining zombies that survive the initial blast. 
The afterburn effect can also be used to wear down the health points of mini zombie bosses. 
Zombie Infection
Balrog-l should be used for camping purposes as it can be slightly inaccurate when running from zombies. 
Use the weapon's Balrog Charging System to torn out the health points of a zombie and prevent them from healing. The afterburn effect deals 30 damage per second for 10 seconds.
Release date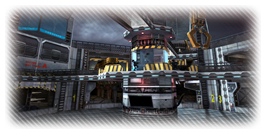 This gun was released alongside Threat on:
South Korea: 31 January 2013. There was a resale on 25 July 2013.
Taiwan/Hong Kong: 6 February 2013. There was a resale on 10 September 2013.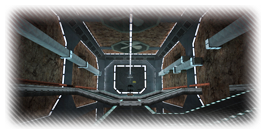 This gun was released alongside Behind on:
Indonesia: 20 November 2013.   
Singapore/Malaysia: 20 November 2013.
Comparison to A mode of Skull-1

Positive
More accurate (+1%)
Able to shoot out explosive ammunition (B mode)
Higher clip capacity (+3 rounds)
Cheaper ammo
Neutral
Same recoil (30%)
Same weight (0% speed reduction)
Has two firing modes
Negative
Lower penetration power (-2)
Lower damage (-6)
Lower fire rate (-2%)
More expensive (+$300)
Lower stun power to zombies in Zombie Scenario
Gallery
Shoot sound
Ditto, secondary fire
Did you purchase this gun?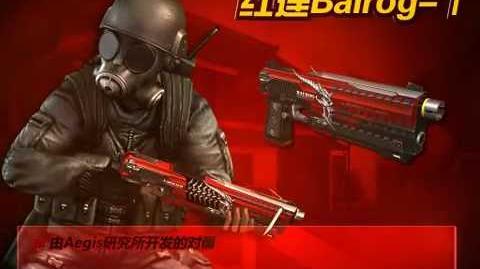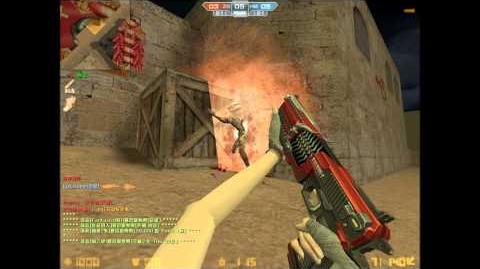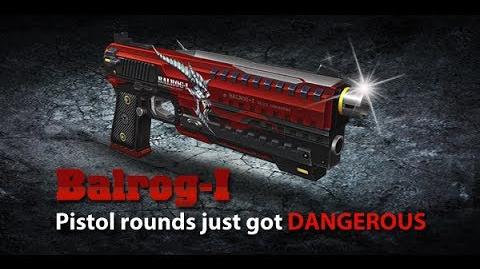 Trivia
This weapon is based on the AMT AutoMag V.
The words "BALROG-I" and "Aegis Laboratory" could be seen on the slide.
After using B mode, the weapon will automatically switch back to A mode.
When using B mode, a long sharp bone pattern can be seen on the gun.
This is the second weapon that has an afterburn effect (in B mode). The first one is the Salamander.