Balrog-XI

Game
Game(s)

Overview
Aliases

Balrog 11
BG-11/BL-11
XM1014 Balrog Edition
Balrog Shotgun
The God Eliminator (弒神者Balrog-XI) (Taiwan / HK)

Type
Designer
Added since

South Korea
May 14, 2013

Obtained by

Recommended in
Price
Cash point

South Korea
9800 (Permanent)

Price in match

$5750

Statistics
Base damage

52

Accuracy in long range

N/A

Recoil

52%

Rate of fire

82%

Percentage speed reduction

4%

Stun Power

High

Magazine Size

7 / 32

Fire Mode

Automatic

Ammunition

Secondary fire / Modes

Affiliation
Used by
Others
System name

balrog11
Balrog-XI or Balrog-11 is a shotgun from the Balrog series in Counter-Strike Online.
Overview
Balrog-XI is a shotgun chambered with 7 12G AHE rounds, developed by Aegis Institute. When firing 4 pellets continuously, Balrog Charging System will be activated and grants you an explosive shot that is useful in wide range and can do fatal damage to zombies.
Advantages
High damage, especially in 2nd mode
High rate of fire
Very high stun to zombies
Very fast reload time for a shotgun
Can do wide-spread explosive shot when right click
Explosive shot can penetrate through bodies
Explosive shot can even deal headshot damages
Its Balrog Charging System deals fatal damage to zombies
Ideal when dealing with mini-bosses and bosses
Disadvantages
Expensive price and ammunition costs
Just like most shotguns, no penetration on normal shots
Easily run dry due to its fusillade
Low magazine capacity
Have to shoot 4 bullets to obtain an explosive ammo
Events
This weapon was released on:
South Korea: 14 May 2013. It costs 9800 Cash for permanent purchase.
China/Taiwan/Hong Kong/Japan: 5 June 2013.

There was a resell of this weapon on 22 October 2013 alongside Balrog-III (except Japan region).
Tips
Overall

This weapon is a proper replacement for those who like to use XM1014 in Zombie Mods.
Amazingly, Balrog-XI can even deal headshots with explosive shots, without the help of Deadly Shot skill in Zombie Mods. Aim for the head for massive damage.
Balrog-XI explosive shot can deal tremendous damage to zombies and obstacles.
You can shoot the explosive ammo while reloading.
An explosive ammo will be obtained after firing 4 pellets continuously.
The maximum of explosive ammo obtainable is 7.
It can take down barriers real fast with just some explosive shots.
Normal Matches :
Not much recommended in Original due to the lack of accuracy, useless in far range, massively expensive and low spare ammunitions.
In addition, Balrog-XI's explosive shot damage is reduced greatly. Need at least 2-3 explosive shot to take down a single target, provided that the distance between the shooter and the target is 0m - 5m and the user is aiming for the head.
Zombie Mods :
Work just like XM1014. with an additional of Balrog Charging System.
Keep an eye on your spare ammunitions.
1 round of explosive shot to the body can deal about 500 ~ 1000 damage to zombies, depends on the range.
Aim for the head with explosive shot for a massive damage of over 1000 ~ 1500
Recommended to keep at least 2-3 explosive rounds in case of emergency situations.
Explosive shot's damage will be higher if the target is nearer.
Explosive shot has low stun and good knockback, so is it recommended to keep an apporiate distance.
Explosive shots can send Light-type zombies flying and Heavy-type zombies a short distance if they're being shot at in midair .
Ideal when dealing with large hitboxes zombies like Heavy types.
Human Scenario / Zombie Scenario :
Balrog-XI can take down barriers easily with explosive shots make sure you have enough ammo.
Keep your explosive rounds stocked in case of overwhelming zombies incoming so that you can easily escape.
Keep an eye on your money in the beginning 600 rounds of Balrog-XI can burn out 9750$.
Explosive shots works wonderfully on mini-bosses like Deimos, Ganymede and Titans. As well as main bosses.
Explosive shots can penetrate through bodies but not walls, keep that in mind.
Comparison to XM1014

Positive
Higher rate of fire (+6%)
Can do wide spread explosive shots
Additional explosive rounds
Neutral
Same damage (52)
Same weight (4% speed reduction)
Same magazine size (7)
Negative
More expensive (+$2750)
Available in limited time only
Gallery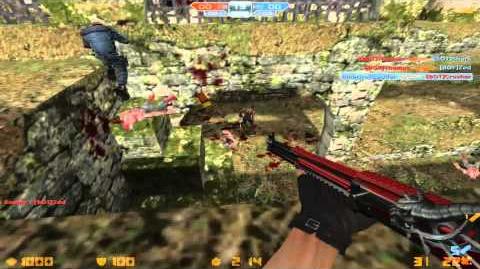 Trivia
This weapon is based on XM1014.
It has a different draw, reload animation and a shooting sound than the original one.
This is the very first weapon that can deal headshots with explosive shots without the help of Deadly Shot skill.
When you earn an explosive ammunition it uses the Balrog-IX's pre-charge sound file.
One new muzzle flash was made for this weapon.
Its secondary fire mode is similar to the Cannon system.
This is the second Balrog weapon which uses the Balrog Charging System in the manual way. The first one is Balrog-I.
The world "Balrog XI" can be seen while reloading or drawing.
The world "B C S System" is printed on the buttstock.
This weapon is extremly useful in many Zombie Scenario maps due to the secondary fire mode.
The sprite of the explsive shot looks like 5 fireballs, but actually is only 1.