Battle Toy Hammer

Game(s)
Overview
Type
Added since

South Korea
26 May 2016

China
7 June 2016

Taiwan/Hong Kong
7 June 2016

Source

Recommended in
Price
Price in match

$0

Statistics
Percentage speed reduction

0%

Knockback Power

Low

Stun Power

High

Fire Mode
Secondary fire / Modes

Swing

Affiliation
Used by
Others
System name

toyhammer

Battle Toy Hammer is a melee weapon in Counter-Strike Online 2.
Overview
This is a strong melee weapon made from toy that can be used in many situations.
Release date
South Korea: 26 May 2016.
China: 7 June 2016.
Taiwan/Hong Kong: 7 June 2016.
Gallery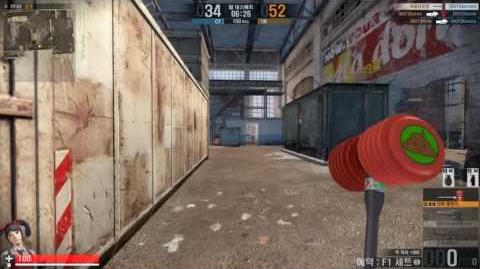 External links
Ad blocker interference detected!
Wikia is a free-to-use site that makes money from advertising. We have a modified experience for viewers using ad blockers

Wikia is not accessible if you've made further modifications. Remove the custom ad blocker rule(s) and the page will load as expected.