Beretta ARX-160

Game(s)
Overview
Aliases

ARX

Type
Designer

Beretta

Added since

South Korea
29 August 2013

Taiwan/Hong Kong
10 September 2013

China/Japan
11 September 2013

Indonesia
26 March 2014

Singapore/Malaysia
2 July 2014

CSN:Z
23 September 2014 (Craft)

Vietnam
26 March 2015 (Craft)

Origin

Source

Recommended in
Price
Cash point

South Korea
9800 (Permanent)

Taiwan/Hongkong
349 (Permanent)

Japan
200 (3 days)
400 (10 days)
600 (30 days)
1700 (Permanent)

Indonesia
7000 (1 day)
14000 (3 days)
28000 (10 days)
42000 (30 days)
80000 (Permanent)

Singapore/Malaysia
9000 (Permanent)

Price in match

$3000

Statistics
Base damage

27

Accuracy

88%

Recoil

15%

Rate of fire

91%

Percentage speed reduction

9%

Knockback Power

Low

Stun Power

High

Magazine Size

30 / 90

Fire Mode

Automatic

Ammunition

Reload Time

3.0 seconds

Secondary fire / Modes

Affiliation
Used by
Others
Variants
System name

arx160

Beretta ARX-160 is a scoped assault rifle in Counter-Strike Online.
Overview
The Beretta ARX-160 is an Italian assault rifle fed with 30 rounds of 5.56 NATO. It has a high rate of fire and a short reloading time, making it reliable in close quarters combat. A usable scope is attached to ease long range engagements.
Advantages
Disadvantages
Low knockback power
Purchasable by cash points only
Low damage for an assault rifle
Easily runs dry
Release date
South Korea: 29 August 2013.
Taiwan/Hong Kong: 10 September 2013.
China/Japan: 11 September 2013.
Indonesia: 26 March 2014.
Singapore/Malaysia: 2 July 2014.
CSN:Z: 23 September 2014.
Vietnam: 26 March 2015.
Analysis
Price: Same as StG 44.
Rate of fire: Same as a standard assault rifle.
Weight: Same as M4A1.
Tips
Overall
Shoot in full-auto in close range and use short bursts of fire in middle range.
For long range, crouch and use the scope for better accuracy.
30 rounds of the ARX-160 can deal 4,000 ~ 6,000 damage to bosses, provided that the firepower has been maxed.
Comparisons
Positive
Cheaper (-$500)
Lower recoil (-3%)
Higher rate of fire (+5%)
Neutral
Same magazine size (30)
Same ammo type (5.56mm)
Negative
Less accurate (-2%)
Lower damage (-1)
Heavier (+5% speed reduction)
Gallery
Shooting sound
Taking out empty magazine
Inserting new magazine
Drawing sound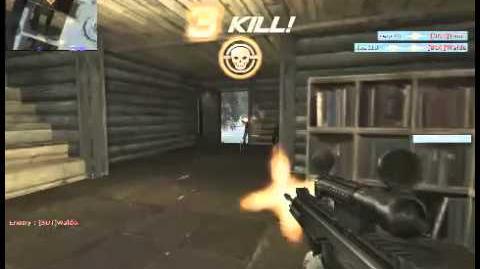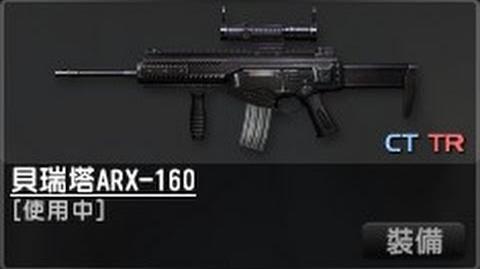 Trivia
Despite being modeled with a sniper scope, it functions with ACOG/reflex sight zoom level in-game.
The ARX-160's in-game model is actually based off the ARX-100, instead of the proper ARX-160.
External links