Blaster

Game(s)
Overview
Aliases

Science Fiction Gun

Type
Designer

Unknown

Added since

Singapore/Malaysia
25 April 2012

Indonesia
3 January 2013

Turkey
19 February 2014

CSN:Z
24 June 2015

Vietnam
17 September 2015

Origin

Unknown

Source

Price
Cash point

N/A

Game point

N/A

Price in match

$3500

Statistics
Base damage

26

Accuracy

13%

Recoil

14%

Rate of fire

92%

Percentage speed reduction

14% (3.0kg)

Knockback Power

Low

Stun Power

High

Magazine Size

45 / 90

Fire Mode

Automatic

Ammunition

Reload Time

3.0 seconds

Affiliation
Used by
Others
System name

sfgun
The Blaster is a science fiction assault rifle in Counter-Strike Online obtainable randomly from Code Box.
Overview
The Blaster is described as the future weapon that is fed with 45 laser rounds which is similar to the 5.56 NATO caliber. It has very high rate of fire, moderate firepower, accuracy and recoil but it is heavy and expensive purchase cost in game for an assault rifle.
Advantages
Very high rate of fire
Large clip size
Good accuracy in middle range
High damage if shoot continuosly
Disadvantages
Expensive purchase cost
Heavy weight
Only can be obtained by Coded Box
Low damage if shoot one by one as an assault rifle
Analysis
Users
Rifleman: The Blaster is the most effective infantry weapon for the Riflemen.
Alice: Seen in posters.
Comparison to Ethereal
Positive
Cheaper (-$400)
More accurate (+4%)
Higher rate of fire (+1%)
Higher clip size (+15)
Neutral
Same damage (26)
Same knockback power
Same stun power
Negative
Higher recoil (+3%)
Heavier (+8%)
Slower reload (+0.5 seconds)
Gallery
Firing sound
Reload sound
Draw sound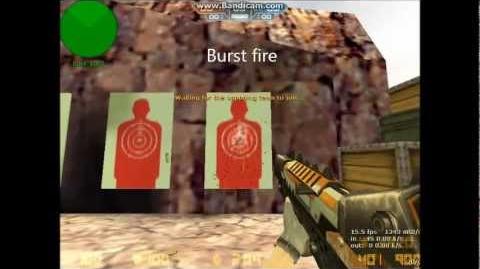 Trivia
When shooting, blue fire is emitted instead of orange or light yellow.
The magazine of this weapon is smaller than any other type of magazines.
This weapon has only one muzzle flash color.
This is the first weapon in the Science Fiction series to be implemented in the game.