Broad Divine

Game(s)
Overview
Type
Added since

South Korea
30 June 2016

Taiwan/Hong Kong
5 July 2016

China/Japan
6 July 2016

CSN:Z
23 November 2016

Indonesia
11 January 2017

Origin

Source

Price
Price in match

$7200

Statistics
Base damage

34

Accuracy

84%

Recoil

20%

Rate of fire

90%

Percentage speed reduction

14%

Knockback Power

Low

Stun Power

High

Magazine Size

200 / 200

Fire Mode

Automatic

Ammunition
Reload Time

4.5 seconds

Secondary fire / Modes

Afterburn

Affiliation
Used by
Others
System name

broad
For the original version, see MG3.
Broad Divine is a Machine gun in Counter-Strike Online.
Overview
A 200 rounds machine gun that is fed with .50 BMG Holy. Provide extra damage to zombies with holy water explosion and afterburn effect.
Advantages
High damage for a machine gun
Has afterburn affect
Very large magazine size
High stun power
Decent accuracy
Disadvantages
Heavy
Long reload time
High recoil
Low rate of fire for a machine gun
Expensive
Release date
South Korea: 30 June 2016.
Taiwan/Hong Kong: 5 July 2016.
China/Japan: 6 July 2016.
CSNZ: 23 November 2016
Indonesia: 11 January 2017
Comparison
Positive
Higher damage (+3%)
Lighter (-2%)
Cheaper in-game cost (-$1800)
Higher magazine size (+80)
Has afterburn affect
Neutral
Same accuracy
Same rate of fire
Same stun power
Negative
Slightly higher recoil (+1%)
Longer reload time (+0.5)
No Balrog Charging System
No scope
Gallery
Shooting sound
Ditto, explosion sound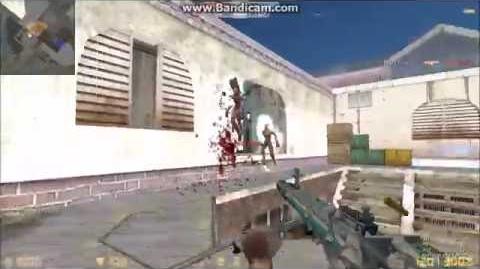 Trivia
The firing sound of Broad Divine is nearly similar to BALROG-VII's while the explosion sound is nearly similar to JANUS-1's.
Its reload animation is nearly similar to PKM.
The word "BROAD-D" can be seen on the weapon body.
This is the 4th weapon after Holy Bomb, Bendita, and Sapientia to use Holy ammunition. Like the Bendita, its front ironsight post is a cross.
External link