Burning AUG
Game(s)
CSO
Overview
Type
Added since

South Korea
1 December 2016

Taiwan/Hong Kong
6 December 2016

China/Japan
7 December 2016

Indonesia
2 March 2017

CSN:Z
28 June 2017

Origin

Austria

Source
Price
Price in match

$5000

Statistics
Base damage

28

Accuracy

90%

Recoil

18%

Rate of fire

91%

Percentage speed reduction

4%

Knockback Power

Low

Stun Power

High

Magazine Size

30 / 90

Fire Mode

Automatic

Ammunition
Reload Time

3.0 seconds

Secondary fire / Modes

Affiliation
Used by

Human

Others
System name

augex
Burning AUG is an Assault rifle in Counter-Strike Online.
Overview
This item was previously obtainable from Bingo which later reintroduced in Top 50 Decoder .
Specialized AUG with enhanced accuracy and a grenade launcher attached. Cluster grenade is used where the first explosion will spread three smaller grenades that explode on contact.
Advantages
High accuracy
High rate of fire
Light weight
Grenades do high damage
Grenades can travel far
Purchasable by both teams
Disadvantages
Expensive
Unusable scope
Cannot refill grenades
Obtainable through Bingo only
Release date
South Korea: 1 December 2016.
Taiwan/Hong Kong: 6 December 2016
China/Japan: 7 December 2016
Comparison to AUG
Positive
Has grenade launcher
Purchasable by both teams
Neutral
Same damage (28)
Same accuracy (90%)
Same recoil (18%)
Same rate of fire (91%)
Same weight (4%)
Negative
More expensive (+$1500)
Cannot zoom
Gallery
Shoot sound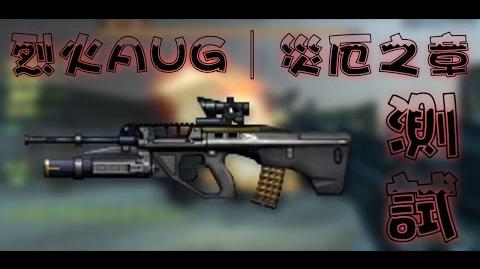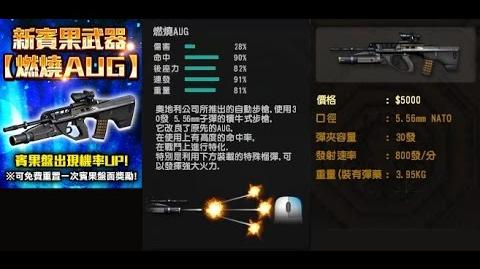 Trivia
A Frog Skeleton sticker can be seen in weapon's body.
The weapon is modeled after the F90 Austeyr, which is an improved variant of the F88, a Australian variant of the AUG
Which Top 50 Decoder weapon is your choice?
Ad blocker interference detected!
Wikia is a free-to-use site that makes money from advertising. We have a modified experience for viewers using ad blockers

Wikia is not accessible if you've made further modifications. Remove the custom ad blocker rule(s) and the page will load as expected.