Bushmaster ACR

Game(s)
Overview
Aliases

ACR

Type
Designer

Bushmaster

Added since

South Korea
13 March 2014

China
22 April 2015

Taiwan/Hong Kong
27 April 2016

Origin

Source
Recommended in
Price
Price in match

$3100

Statistics
Base damage

29

Rate of fire

91%

Percentage speed reduction

9%

Knockback Power

Low

Stun Power

High

Magazine Size

30 / 90

Fire Mode

Automatic

Ammunition

Reload Time

3.0 seconds

Secondary fire / Modes

Silencer

Affiliation
Used by

Terrorist counterpart

Others
Variants
System name

acr
Bushmaster ACR is a Counter-Terrorist assault rifle in Counter-Strike Online 2.
Overview
Bushmaster ACR is designed to replace the M4A1 and FN SCAR-L. Its overall performance has been improved a step further. It has decent accuracy, damage and stability, increasing the lead to be in a variety of situations.
Press RMB to remove the silencer.
Advantages
High accuracy
Low recoil
High rate of fire
Light weight
Has silencer
Disadvantages
The player can choose to unlock the ACR instead of buying from shop, by collecting 2000 kill points and 500 assistants from SCAR-L.
Release date
This weapon was released alongside Izmash AK-12 on:
South Korea: 13 March 2014.
China: 22 April 2015.
Taiwan/Hong Kong: 27 April 2016.
Gallery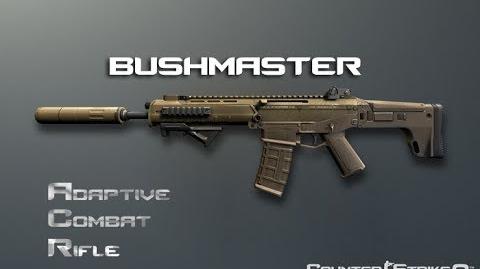 Attaching silencer
Inserting new magazine
Taking out old magazine
Detaching silencer
Drawing sound
Reloading sound
Shooting sound
Ditto, silenced
Trivia
ACR refers to Adaptive Combat Rifle.
The design of ACR is nearly similar to FN SCAR-L.
This is the standard rifle in Afghanistan War.
External links
Ad blocker interference detected!
Wikia is a free-to-use site that makes money from advertising. We have a modified experience for viewers using ad blockers

Wikia is not accessible if you've made further modifications. Remove the custom ad blocker rule(s) and the page will load as expected.