CROW-1
Game(s)
CSO
Overview
Aliases

Glock CROW
永夜CROW-1 (TW/HK)

Type
Added since

South Korea
23 March 2017

Taiwan/Hong Kong
28 March 2017

China/Japan
29 March 2017

Indonesia
23 August 2017

CSN:Z
20 September 2017

Origin

USA

Source

Store

Price
Price in match

$1650

Statistics
Base damage
Accuracy
Recoil
Rate of fire
Percentage speed reduction

0%

Knockback Power

Low

Stun Power

High

Magazine Size

50 / 100

Fire Mode
Ammunition
Secondary fire / Modes

Affiliation
Used by

Human

Others
Variants
System name

crow1
CROW-1 is a pistol under CROW Series in Counter-Strike Online.
Overview
This item can be bought directly from shop or Battlefield Supply.
This is the remodeled version of Glock 18 with a drum magazine. It is equipped with 50 rounds of 9mm that can be reloaded quickly when hitting the [R] button at the right time during reloading with its CROW Reload System. It can also be fired in automatic.
Advantages
Has automatic fire mode
High magazine size
Can be reloaded quickly with its CROW Reload System
Disadvantages
Expensive for a pistol
Low damage especially in auto mode
Low accuracy and high recoil in auto mode
Comparison to Battle Glock
Positive
Higher accuracy in B mode (+20%)
Higher magazine size (+30)
Neutral
Same damage in both modes (23 & 18)
Same recoil (22%)
Same weight (No speed reduction)
Negative
More expensive (+$1250)
Lower rate of fire (-1%)
Release date
South Korea: 23 March 2017.
Taiwan/Hong Kong: 28 March 2017.
China/Japan: 29 March 2017.
Indonesia: 23 August 2017.
CSN:Z: 20 September 2017.
Gallery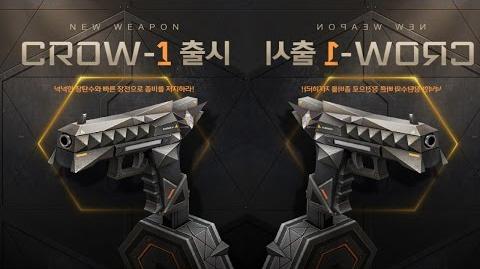 Trivia
CROW-1 is stated that it was manufactured in the USA even though its base weapon originates from Austria.
Which Top 50 Decoder weapon is your choice?
Ad blocker interference detected!
Wikia is a free-to-use site that makes money from advertising. We have a modified experience for viewers using ad blockers

Wikia is not accessible if you've made further modifications. Remove the custom ad blocker rule(s) and the page will load as expected.