CROW-11
Game(s)
Overview
Aliases

USAS-12 CROW
鬼泣死士CROW-11 (TW/HK)

Type
Added since

South Korea
25 August 2016

Taiwan/Hong Kong
31 August 2016

China/Japan
31 August 2016

Indonesia
3 November 2016

Origin

Source
Price
Price in match

$5000

Statistics
Base damage

52

Accuracy

N/A

Recoil

52%

Rate of fire

76%

Percentage speed reduction

27%

Knockback Power

Low

Stun Power

High

Magazine Size

20 / 40

Fire Mode

Automatic

Ammunition

Reload Time
Secondary fire / Modes

Affiliation
Used by
Others
System name

crow11
CROW-11 is an automatic shotgun included in CROW Series.
Overview
This 20 rounds automatic shotgun is the remodeled version of USAS-12 with CROW Reload System that can speed up reloading when the user press [R] at the right time during reloading.
Release date
South Korea: 25 August 2016.
Taiwan/Hong Kong: 31 August 2016
China: 31 August 2016
Japan: 31 August 2016
Indonesia: 3 November 2016
Comparison to USAS-12

Positive
Shorter reload time (-1.0 s without CRS, -2.0 s with CRS)
Neutral
Same damage (52)
Same recoil (52%)
Same rate of fire (76%)
Same speed reduction (27%)
Same magazine size (20 / 40)
Negative
Gallery
Shoot sound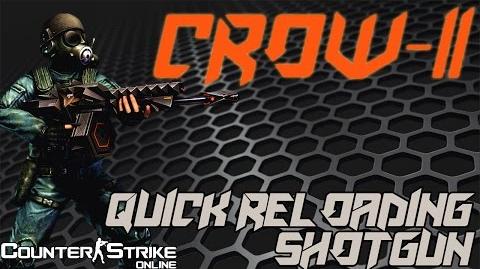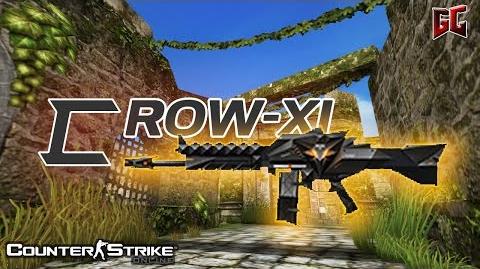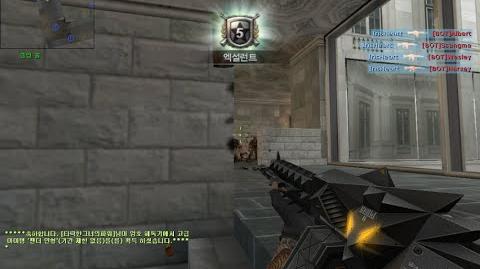 Trivia
The presence of CROW-11 can be found firstly in the files of Counter-Strike Nexon: Zombies.
There is a mistake data which this weapon weight same as USAS-12 regular, but the true weight is same as knife.
What is your hero's weapon of choice?
Ad blocker interference detected!
Wikia is a free-to-use site that makes money from advertising. We have a modified experience for viewers using ad blockers

Wikia is not accessible if you've made further modifications. Remove the custom ad blocker rule(s) and the page will load as expected.