Black Dragon Cannon

Game
Game(s)

Overview
Type
Added since

Korea
January 19, 2012

China/Japan
January 18, 2012

Taiwan/Hong Kong
January 17, 2012

Singapore/Malaysia
Coming soon

Origin

Obtained by

Event

Recommended in
Price
Price in match

$4100

Statistics
Base damage

100+

Accuracy in long range

N/A

Recoil

12%

Percentage speed reduction

7% (4.6 kg)

Knockback Power

Low

Stun Power

Low

Magazine Size

1 / 20

Fire Mode

Single-shot

Ammunition
Reload Time

2 seconds

Affiliation
Used by
Others
System name

cannon
Black Dragon Cannon is a break-action weapon in Counter-Strike Online obtainable through special events.
Overview
This is a cannon which detonates the whole area in a certain range. It creates an explosion which looks like a volcano is exploding. It has a short gun barrel and its wielder will have excellent mobility.
Advantages
Very high damage in close range
Light weight
Lights up target for a short period of time
Good for destroying obstacles in Scenario modes
Can kill multiple targets at once
Disadvantages
Effective in close range only
Damage decreases over range
Small magazine size
Expensive price and clip size
Hard to obtain
Low damage to bosses
Release date
Taiwan/Hong Kong
This weapon was released on 17 January 2012 alongside TMP Dragon.
2 July 2013: There was a 4× chance to get Black Dragon Cannon from Code Box event.
Singapore/Malaysia
This weapon will be released soon.
Gallery
Firing and reload sound
Draw sound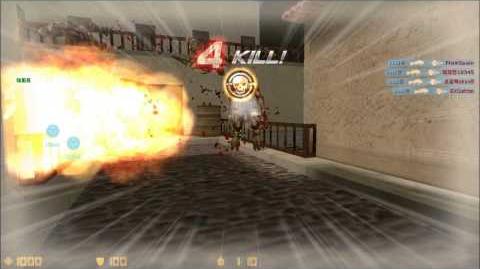 Trivia
The Black Dragon Cannon is the fourth break-action weapon introduced to the game. The first is the M79 Saw off while the second one is SVDEX and the third one is Double-barreled shotgun.
There're two Chinese words written on the weapon, the first one is the "Hēi" written on the weapon's buttstock, which refers to "black" in English. The second is the "Dōng" written on its barrel, which refers to "East" in English.
It is good as the player's primary weapon for Pursuit-type Zombie Scenario mode as it can kill multiple zombies.
A replica of Black Dragon Cannon was made by the gimmick presenters during the CSO World Championship 2013, specifically on the Zombie 4: Darkness announcement.