Your one stop source for all your Counter-Strike Online and Counter-Strike Nexon: Zombies needs!
Your one stop source for all your Counter-Strike Online and Counter-Strike Nexon: Zombies needs!
We are now using the brand new Ubuntu fonts. Click here to download.
Unsure on how to install it? Read here.
Since March 2011, 1,341 reports and 17,518 snaps have been recorded.
Currently serving 8 generalissimos and 38 major generals.

| | | | | |
| --- | --- | --- | --- | --- |
| | | | | |
| English | Indonesia | Thailand | UserU | Dean AMX |
Wikia Internationale: Counter-Strike Online in other languages
You aren't limited to the English language if you're looking for Counter-Strike Online or Counter-Strike Nexon: Zombies contents on Wikia! There are wikis available in the following languages:
If you are a fluent writer in one of these languages, we encourage you to join and contribute to any of these wikis. If it's inactive, we urge you to formally adopt it. Just fill in the Contact form on that wiki or message any of the admins at the bottom of the page and request to either contribute to an existing wiki or create a new wiki in your own language. If you've proven yourself to be noteworthy, we'll grant you the Administrator status.
Brick Piece T50

This is a 150 rounds machine gun built from a special set of blocks to resemble the PKM. Its B mode transforms the weapon into a tank for better performance, depending on the situation.
THANATOS-3

A submachine gun developed by Aegis Institute based on the MP7A1 and fed with 60 rounds of 4.6×30mm. After firing a pre-determined number of rounds, the Thanatos Blade System will be unlocked to yield additional firepower through the generated blades.
Transcendence Decoder B

Another high quality decoder that can unlock many luxury weapons. It contains Desert Eagle Crimson Hunter, M4A1 Dark Knight, AK-47 Paladin, THANATOS Series and VULCANUS Series.
Fun Facts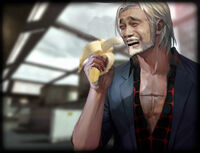 Did you know that...
...there are the faces of Light zombie and Heavy zombie on Frozen Terror's body?
...Jim is the leader of Red Lizard Mercenaries and Norman was his most trusted comrade before he betrayed to Vanguard?
...inside the Heavy zombie's body, there's a small banner showing "Copyright [2007] NEXON & Valve Corporation. All Rights Reserved."?
...earlier Counter-Strike Online regions used to have many default weapons sold in cash points such as Korea, Taiwan/Hong Kong, China and Japan regions?
...Counter-Strike Nexon: Zombies was a contrast to Nexon's statement about the game being exclusive to Asian regions previously?
...TAR-21 is the only assault rifle that can be purchased for both teams with in-game point and does not have level restriction?
...Skull, Balrog and Janus series are expensive if compared to other weapons?
...you can throw flashbang twice with 1 quantity of flashbang in some Zombie Escape map?
...every New Lunar Year event, an animal-decorated submachine gun will be released?
...the limit for ammunition is 200 in Zombie modes (300 with Strong Lifepower), no matter how much the actual spare magazine the weapon has in Original mode?
...functional doors can be destroyed in Zombie PvP modes?
Wanna add yours? Click here!
Contributions
Wanna help us out?
Edits can be made as long as you have registered - read our edit policy and start contributing!
"Stubs" are articles that need the most help, edit them!
Uploading images is another really easy way to help out - read our policy then start uploading.
If you are new to wikis, check out Wikia Help for beginner tutorials and more.
Problems and suggestions
You can discuss your problems at www.csoforums.net.
Get any suggestion? You can ask admin directly!
Weekly top 10 editors

loading...

Admins
Poll
Which Buff Weapon do you want the most?

 




Which Zombie Scenario Season 1 map do you like to play the most?

 



Which weapon do you like to use the most?

 




Which Zombie mode do you like to play the most?

 
2 June 2016 08:00:00 +0800 left before the next update Prepare your wallets, it's the update day!



Publishers
Counter-Strike Online
Counter-Strike Online 2
Statistics
Since November 22, 2010:
We have created a total of 1,341 articles.
A total of 17,518 images were uploaded.
38 users are still active to date.
The community has made 244,337 edits on the wiki.
Think you can contribute to the numbers? Join us and pick up the challenge! We welcome anyone to our community!