A lovely place to search all about Counter-Strike Online and Counter-Strike Nexon: Zombies!
A lovely place to search all about Counter-Strike Online and Counter-Strike Nexon: Zombies!
We are now using the brand new Ubuntu fonts. Click here to download.
Unsure on how to install it? Read here.
Wikia Internationale: Counter-Strike Online in other languages
You aren't limited to the English language if you're looking for Counter-Strike Online or Counter-Strike Nexon: Zombies contents on Wikia! There are wikis available in the following languages:
If you are a fluent writer in one of these languages, we encourage you to join and contribute to any of these wikis. If it's inactive, we urge you to formally adopt it. Just fill in the Contact form on that wiki or message any of the admins at the bottom of the page and request to either contribute to an existing wiki or create a new wiki in your own language. If you've proven yourself to be noteworthy, we'll grant you the Administrator status.
Newcomen

This is the modified version of MP7A1 fed with 30 rounds of 4.6 mm. It is operated with steam mechanism that can accumulate steam for higher attack damage in each fire shots.
M1 Garand

An iconic semi-auto rifle used by U.S. Armed Forces in World War II that holds 8 rounds of 7.62 NATO, loaded in en-bloc clips. This weapon was widely used during World War II.
Baseball

Play CSO in any match with at least 4 players in the room for 20 minutes to get a ball. After getting the ball, you are able to swing a bat in the Baseball window. The maximum of 3 balls can be hold in a time and the results of swinging can be either hit, strike or home run. You can get an Advanced Code Decoder after successfully returning to the base.
Fun Facts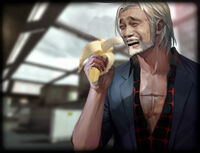 Did you know that...
...BALROG-III does lower damage when the BALROG Charging System is activated?
...Regular Zombie and Ganymede consumes 1000 health points to use Berserk ability in Zombie Mutant while only 500 in Zombie Hero?
...there is no buy zones in Knife Battle and AWP Battle maps?
...BALROG-V's BALROG Figure is actually breathing when in idle position?
...Golden firearms do not change their skin even after enhanced to Expert and Master?
...shooting explosive fire shot from BALROG-XI does not increase zombie's anger bar?
...you can see JANUS Transformation animation by slashing with SKULL-9 and immediately switch to the JANUS weapon?
...after effect does not apply to obstacles?
Wanna add yours? Click here to continue.
Contributions
Wanna help us out?
Edits can be made as long as you have registered - read our edit policy and start contributing!
"Stubs" are articles that need the most help, edit them!
Uploading images is another really easy way to help out - read our policy then start uploading.
If you are new to wikis, check out Wikia Help for beginner tutorials and more.
Problems and suggestions
You can discuss your problems at www.csoforums.net.
Get any suggestion? You can ask admin directly!
Weekly top 10 editors

loading...

Admins
Poll
Which Steampunk weapon do you like the most?

 

Which Zombie Scenario Season 4 map do you like to play the most?

 



Which weapon do you like to use the most?

 




Which FUN mode do you like to play the most?

 
9 April 2015 08:00:00 +0800 left before the next update Prepare your wallets, it's the update day!


Contract of service between Asiasoft Games with Nexon has ended.
CSO Thailand is now officially closed.
Contract of service between Nexon EU with Nexon has ended.
CSO Turkey is now officially closed.
CSN:Z replaces CSO Turkey.

Next CBT on the 25th March 2015.
Publishers
Counter-Strike Online
Counter-Strike Online 2
Statistics
Since November 22, 2010:
We have created a total of 1,158 articles.
A total of 14,457 images were uploaded.
81 users are still active to date.
The community has made 212,577 edits on the wiki.
Think you can contribute to the numbers? Join us and pick up the challenge! We welcome anyone to our community!