Home
Talk

4
1,053battles on
this wiki
Click the box above for background music
Since March 2011, 1,053 reports and 12,682 snaps were recorded.
Serving 6 marshals and 117 sergeants now.




FaceBook YouTube Forum
MP40
This is a submachine gun originated from Nazi Germany to hold 32 rounds of 9mm. It was firstly invented in 1940 and later involved throughout the World War II, Cold War and Vietnam War. MP40 was used extensively by paratroopers, platoon and squad leaders during World War II.
SKULL-1

This is an anti-zombie revolver fed with 7 rounds of .50 AZ. It has the secondary fire mode that can shoot the bullets fast. Overall, SKULL-1 has a high firepower and penetration power due to the special ammunition developed by the government.
B-Box (Singapore/Malaysia)
A special box containing BALROG weapons and other weapons that are good to fight zombies. It can be obtained by completing Zombie Shelter.
Fun Facts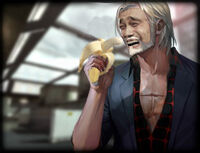 Did you know that...
Wanna add yours? Click here to continue.
Contributions
Wanna help us out?
Edits can be made as long as you have registered - read our edit policy and start contributing!
"Stubs" are articles that need the most help, edit them!
Uploading images is another really easy way to help out - read our policy then start uploading.
If you are new to wikis, check out Wikia Help for beginner tutorials and more.
Problems and suggestions
You can discuss your problems at www.csoforums.net.
Get any suggestion? You can ask admin directly!
Wikia Internationale: Counter-Strike Online in other languages
You aren't limited to English if you're looking for Counter-Strike Online content on Wikia! There are wikis in the following language editions:
If you are a fluent writer in one of these languages, we encourage you to join one of these wikis. If it's inactive, we urge you to formally adopt it. Just fill out the Contact form on that wiki and request administrator status.
Weekly top 10 editors

loading...

Admins
27 August 2014 08:00:00 +0800 left before the new update It's Update Day! Get psyched!


Contract of service between the Asiasoft Games company with Nexon has ended.
CSO Thailand is now officially closed.

Closed Beta Test (CBT) is held.
Closed Beta Test (CBT) is held.
Publishers
Counter-Strike Online
Counter-Strike Online 2
Statistics
Since November 22, 2010:
We have created a total of 1,053 articles.
A total of 12,682 images were uploaded.
117 users are still active to date.
The community has made 188,184 edits on the wiki.
Think you can contribute to the numbers? Join us and pick up the challenge! We welcome anyone to our community!