A lovely place to search all about Counter-Strike Online and Counter-Strike Nexon: Zombies!
A lovely place to search all about Counter-Strike Online and Counter-Strike Nexon: Zombies!
We are now using the brand new Ubuntu fonts. Click here to download.
Unsure on how to install it? Read here.
Wikia Internationale: Counter-Strike Online in other languages
You aren't limited to the English language if you're looking for Counter-Strike Online or Counter-Strike Nexon: Zombies contents on Wikia! There are wikis available in the following languages:
If you are a fluent writer in one of these languages, we encourage you to join and contribute to any of these wikis. If it's inactive, we urge you to formally adopt it. Just fill in the Contact form on that wiki or message any of the admins at the bottom of the page and request to either contribute to an existing wiki or create a new wiki in your own language. If you've proven yourself to be noteworthy, we'll grant you the Administrator status.
Dart Pistol
This item can be obtained from Mileage Code Decoder. 5-round pistol that can fire a special dart. It looks like a toy dart is attached to a special feature, it gives a shock to hit enemy periodically.
Sten Mk2
The Sten MK2 is an open bolt sub-machine gun that fires 32 rounds of 9mm Parabellum. It was widely used in World War II due to its cheap and fast manufacturing requirements.
Boxing Costumes


Headgear: Helmet equipped in the head area to use to protect the boxer's head. Champion Belt: A waist belt that can only be mounted by the champion.
Fun Facts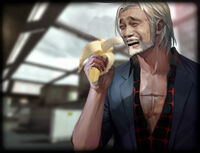 Did you know that...
...JANUS-7 is the only weapon that can emit lightning bolts instead of default ammunition unlike the other JANUS weapons?
...Bio Scorpion was actually a Humvee that is infected by the zombie virus?
...AWP-Z's speed boost is also available in Human Scenario?
...there are 3 models of Yuri and Choi Ji Yoon?
...successfully defusing the bomb while it explodes simultaneously will result in a victory to the Counter-Terrorists?
...players can spam airstrikes in Decoy?
...typing "Nexon" in chat will be censored in all versions?
...the M134 Minigun is the heaviest weapon in Counter-Strike Online history?
...the Joker has the same appearance and personality as Willy Wonka?
Wanna add yours? Click here to continue.
Contributions
Wanna help us out?
Edits can be made as long as you have registered - read our edit policy and start contributing!
"Stubs" are articles that need the most help, edit them!
Uploading images is another really easy way to help out - read our policy then start uploading.
If you are new to wikis, check out Wikia Help for beginner tutorials and more.
Problems and suggestions
You can discuss your problems at www.csoforums.net.
Get any suggestion? You can ask admin directly!
Weekly top 10 editors

loading...

Admins
Poll
Which Steampunk weapon do you like the most?

 

Which Zombie Scenario Season 4 map do you like to play the most?

 



Which weapon do you like to use the most?

 




Which FUN mode do you like to play the most?

 
04 June 2015 08:00:00 +0800 left before the next update It's the update day! Get psyched!


Contract of service between Asiasoft Games with Nexon has ended.
CSO Thailand is now officially closed.
Contract of service between Nexon EU with Nexon has ended.
CSO Turkey is now officially closed.
CSN:Z replaces CSO Turkey.

Publishers
Counter-Strike Online
Counter-Strike Online 2
Statistics
Since November 22, 2010:
We have created a total of 1,183 articles.
A total of 14,972 images were uploaded.
81 users are still active to date.
The community has made 218,333 edits on the wiki.
Think you can contribute to the numbers? Join us and pick up the challenge! We welcome anyone to our community!