Cyclone



Game(s)
Overview
Aliases

Science Fiction Pistol

Type
Added since

South Korea
27 March 2014

Taiwan/Hong Kong
9 April 2014

China/Japan
9 April 2014

Singapore/Malaysia
24 September 2014

Indonesia
29 October 2014

Source

Recommended in
Price
Cash point

N/A

Price in match

$1500

Statistics
Base damage

18

Accuracy

100%

Recoil

0%

Rate of fire

100%

Percentage speed reduction

0%

Stun Power

Low

Magazine Size

50 / 100

Fire Mode

Automatic

Ammunition

Reload Time

2.2 seconds

Affiliation
Used by
Others
System name

sfpistol

Cyclone is a science fiction pistol in Counter-Strike Online.
Overview
This item can be obtained from Code B Decoder only.
This is a 50 rounds Energy Cell-targeted used as a pistol to fire a beam in a straight line. Production of this technology remains unknown.
Advantages
Perfect accuracy
No recoil
Fast reload time
Cheap ammunition cost
High clip size
Very high rate of fire
No speed reduction
Disadvantages
Obtainable from Code Box only
Runs dry easily
Low reserved ammo
Low damage
Cannot penetrate object
Tips
Overall
Its accuracy is as high as bolt-action sniper rifles, which is indeed a lot for a pistol.
There is no recoil when firing this weapon.
Due to its low damage, the Cyclone is recommended in close range battles since the damage drops over distance.
Performing head shots is easy with this weapon due to its high accuracy and no recoil at all even though the damage is low.
Due to its high clip capacity, high accuracy and no recoil at all, it is best suited for escaping.
'Enemy Accuracy Down' debuff does not affect its perfomance at all.
Combine it alongside Deadly Shot to annihilate humans in either close or medium range or to deal a massive amount of damage against zombies.
Release date

This gun was released alongside Lingling and Shadow Conqueror on:
South Korea: 27 March 2014.
Taiwan/Hong Kong: 9 April 2014.
China/Japan: 9 April 2014.
Singapore/Malaysia: 24 September 2014.
Indonesia: 29 October 2014.
Users
Gallery
Shooting sound
Start shooting sound
End shooting sound
Idle sound
Drawing
Reloading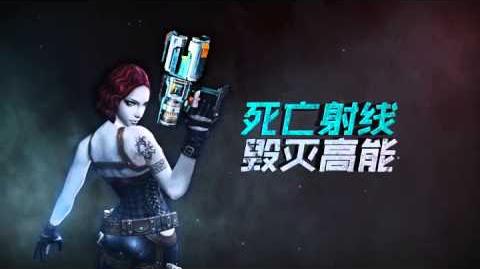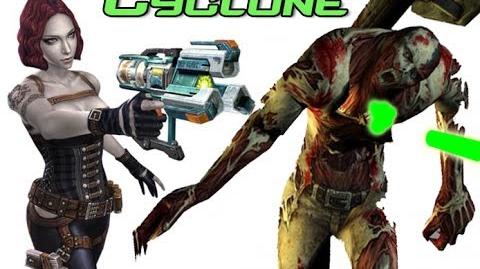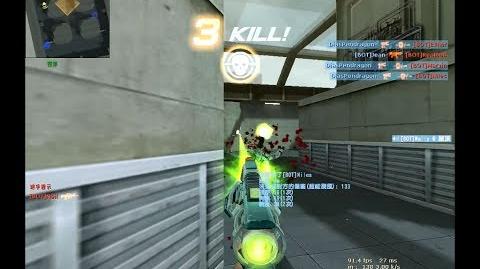 Trivia
Cyclone is defined as an area of closed, circular fluid motion rotating in the same direction as the Earth.
A green trail will appear with every shot. Similar to Thunderbolt.
It uses the same muzzle flash from the Plasma.
This is the fourth weapon which when firing, it is held in center view. The first three are the Infinity series pistols.
This is the first pistol to have the highest magazine size (50) in Counter-Strike Online, followed by Calico M950.
Which Steampunk weapon do you like the most?