FN FNC

Game(s)
Overview
Aliases

FNC

Type
Designer

Fabrique Nationale

Added since

Taiwan/Hong Kong
13 June 2012

Japan
13 June 2012

Singapore/Malaysia
27 September 2012

Indonesia
10 October 2012

CSN:Z
23 September 2014 (Craft)

Vietnam
26 March 2015 (Craft)

Origin

Source

Price
Game point

Singapore/Malaysia
8000 (3 days)
24000 (10 days)
64000 (30 days)

Indonesia
35000 (3 days)
105000 (10 days)
280,000 (30 days)

Turkey
16000 (3 days)
48000 (10 days)
128000 (30 days)

Price in match

$2100

Statistics
Base damage

27

Accuracy

80%

Recoil

16%

Rate of fire

91% (675 RPM)

Percentage speed reduction

9% (3.84 kg)

Knockback Power

Low

Stun Power

High

Magazine Size

30 / 90

Fire Mode

Automatic

Ammunition

Reload Time

3.0 seconds

Affiliation
Used by

Counter-Terrorist counterpart

Others
System name

fnc
FNC (Fabrique Nationale Carbine) is a Terrorist assault rifle in Counter-Strike Online.
Overview
The FNC is a 5.56mm assault rifle built in the 1970. It has been adopted by several countries' armed forces and is currently still in service. However, the Belgian army is replacing this weapon for the FN F2000.
Advantages
Decent recoil
High rate of fire
Cheap
Accurate
Moderate damage
Disadvantages
Purchaseable only by Terrorists
Comparisons

Positive
Does higher damage (+1)
More accurate (+3%)
Lower recoil (-2%)
Neutral
Negative
More expensive (+$100)
Heavier (+5%)
Longer reload time (+0.5 seconds)
Lower magazine capacity (-5)

Positive
Higher damage (+1)
Lower Recoil (-2%)
Neutral
Same stun and knockback power
Same ammunition type (5.56 NATO)
Same rate of fire in automatic mode (91%)
Same magazine size (30)
Negative
Less accurate (-9%)
No burst-fire mode
Gallery
Firing Sound
Draw sound
Reload sound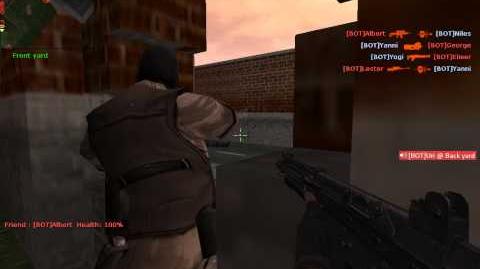 Trivia
This weapon was a skin for the Galil before it was officially released as a separate weapon.
When reloading, a button can be seen clearly pressed. This also happens to K1A's 'reload' animation.
The bullet model can be seen when drawing, firing and reloading. Oddly, it is colored in gold while the ejected shell for every fired rounds is colored differently.
Before the Free Update patch, this weapon used to have level restriction. The players must achieve level 33 or higher to purchase it.
External links