HK G11

Game(s)
Overview
Type
Designer

Heckler & Koch

Added since

South Korea
3 Jan 2013
24 Oct 2013 (Gold)

Taiwan/Hong Kong
9 Jan 2013
5 Nov 2013 (Gold)

China
9 Jan 2013
6 Nov 2013 (Gold)

Japan
16 Jan 2013
6 Nov 2013 (Gold)

Indonesia
3 Jul 2013
26 Aug 2015 (Gold)

Singapore/Malaysia
18 Jul 2013
7 May 2014 (Gold)

Turkey
11 Jun 2014

CSN:Z
23 Sep 2014 (Craft)
1 Apr 2015 (Gold)

Vietnam
26 Mar 2015 (Craft)
21 May 2015 (Gold)

Origin

Source

Recommended in
Price
Cash point

South Korea
10800 (Permanent)

Singapore/Malaysia
1200 (3 days)
2400 (10 days)
3600 (30 days)
10,000 (Permanent)

Price in match

$3600

Statistics
Base damage

25

Accuracy

14%

Recoil

15%

Rate of fire

92%

Percentage speed reduction

11%

Knockback Power

Low

Stun Power

High

Magazine Size

50 / 100

Fire Mode
Ammunition

Reload Time

3.0 seconds

Secondary fire / Modes

Affiliation
Used by
Others
Variants
System name

g11

H&K G11 (Heckler and Koch Gewehr 11) is a cash assault rifle in Counter-Strike Online.
Overview
HK G11 is an innovative assault rifle developed by German Heckler & Koch company that holds 50 rounds of 4.73x33mm Caseless Ammunition for each magazine. The secondary fire mode activates 3-round burst fire. Generally, this weapon has a very high rate of fire for an assault rifle.
Advantages
Usable by both Counter-Terrorists and Terrorists
Able to perform 3-round burst
Large magazine size (50)
Decent recoil
High rate of fire in both modes
Fairly accurate
Disadvantages
Does not share magazine with other guns
Low damage for an assault rifle
Unusable scope
Expensive
Heavy weight
Can not shoot underwater
Tips
It has the same firepower as Kriss Super V.
Its rate of fire is the same as most submachine guns.
Its weight is the same as QBB-95.
Use automatic mode in close range while burst fire mode in long range.
Can not be used underwater.
A 50 rounds of G11 can do 1250 ~ 2500 damage to zombies.
Weapon Enhancement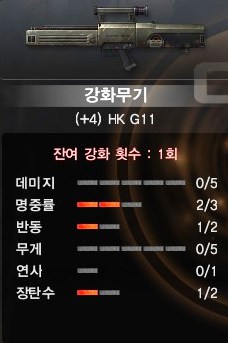 Main article: Weapon Enhancement.
HK G11 can undergo Weapon Enhancement to upgrade its performance.
Statistic
+1
+2
+3
+4
+5
Damage
x
x
x
x
x
Accuracy
x
x
x
-
-
Recoil
x
x
-
-
-
Weight
x
x
x
x
x
Rate of fire
x
-
-
-
-
Clip size
x
x
-
-
-
x = available, - = not available
The damage can be increased from 25 - 30 which is equal to StG 44.
The weight can be reduced up to 85%, making it as light as shotguns.
The magazine size will be increased by 5 each time upgraded.
Variant
G11 Gold

This is a revolutionary assault rifle that developed by German H&K company. It holds 50 rounds for each round with 4.73mm case-less bullet. It has its advantage of high capacity to hold bullets and a raid fire as it is not use empty shells. It provides three-round burst for its second mode. Its movement limit has been improved in G11 gold edition.
Gallery
Drawing sound
Firing sound
Reloading sound
Trivia
The HK G11 is one of the few weapons which used caseless ammunitions.
In Indonesia's patch note and promotional poster, the HK G11 is mistyped as HK11, which is the predecessor of the HK23. Though so, the weapon's name in game is still HK G11.
In Singapore/Malaysia region, there is a bug where the skin does not change after the player has enhanced it to Expert and Master versions.
This is the second weapon to emit clicking sounds whenever the user switches firing modes, after M16A1.