HK MK23 OHWS

Game(s)
Overview
Type
Designer

Heckler & Koch

Added since

South Korea
17 September 2015

China
23 September 2015

Origin

Source
Recommended in
Price
Statistics
Base damage

30

Accuracy

78%

Recoil

30%

Rate of fire

90%

Percentage speed reduction

5%

Knockback Power

Low

Stun Power

High

Magazine Size

12 / 100

Fire Mode

Semi-automatic

Ammunition

Affiliation
Used by
Others

MK23 OHWS or MK23 Socom is a pistol in Counter-Strike Online 2.
Overview
Firstly introduced in 1991, the MK23 OHWS is a weapon system consisting of a match grade semi-automatic pistol, a laser aiming module (LAM) and suppressor. It is based on the USP and fed with 12 rounds of .45 ACP.
Advantages
High damage
High accuracy
High rate of fire
Light weight
Can attach with suppressor
Disadvantages
Release date
This weapon was released through Combination System on:
South Korea: 17 September 2015.
China: 23 September 2015.
Gallery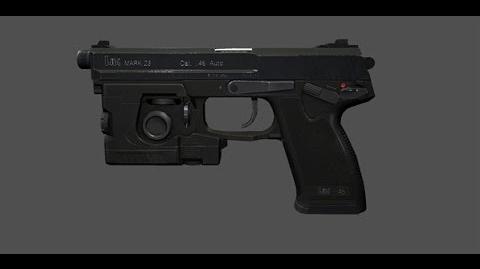 External links
Ad blocker interference detected!
Wikia is a free-to-use site that makes money from advertising. We have a modified experience for viewers using ad blockers

Wikia is not accessible if you've made further modifications. Remove the custom ad blocker rule(s) and the page will load as expected.