Hammer

Game(s)
Overview
Type
Added since

Recommended in

Zombie

Price
Price in match

$0

Statistics
Base damage
Rate of fire

A:

Attack delay 2 seconds

B:

High

Percentage speed reduction
Knockback Power
Stun Power
Fire Mode
Affiliation
Used by
Others
System name

hammer

Hammer is an exclusive melee weapon in Counter-Strike Online.
Overview
Although it is slow and inefficient as a weapon, the secondary attack from it can knock back incoming zombies far away. It is only usable in Zombie: The Mutation, Zombie: The Hero and Zombie: The Union.
Hammer can be used in Zombie Scenario after the player purchases Melee Weapons License.
After the Free Update patch, this weapon becomes a free default weapon in all player's inventories.
Advantages
Disadvantages
Tactics
Users
Gallery
Draw sound
Swing sound
Primary attack slash sound
Secondary attack stab sound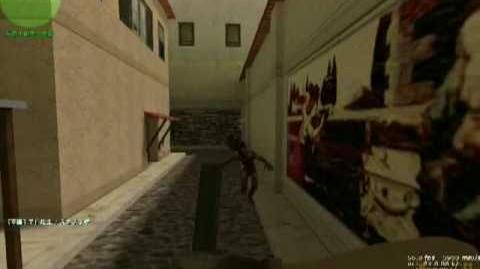 Trivia
External links
Which Battle Weapons is your favorite?
Ad blocker interference detected!
Wikia is a free-to-use site that makes money from advertising. We have a modified experience for viewers using ad blockers

Wikia is not accessible if you've made further modifications. Remove the custom ad blocker rule(s) and the page will load as expected.