dm_industry
Compatible Modes
Author
Details
Difficulty

Max Player Count

20

Map Size

Small

Release Date

Indonesia
6 November 2013

CSN:Z
23 September 2014

Vietnam
26 March 2015

Location

Chinese industrial area

Structure

Simple

Time

Noon

Map Textures
Industry (dm_industry) is an annihilation map in Counter-Strike Online.
Overview
Industry is a small, balanced map, taking place in a Chinese industrial area. The task of each force is to annihilate the opposing force between the time limit. This map can be played in Original, Deathmatch and Team Deathmatch modes.
Gallery
Trivia
Player can see an airplane if spectating in free look.
Strangely, this map is still not released in Singapore/Malaysia region yet, even Industry2 has been released for a long time.
See also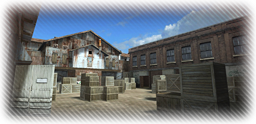 Which Buff Weapon do you want the most?
Ad blocker interference detected!
Wikia is a free-to-use site that makes money from advertising. We have a modified experience for viewers using ad blockers

Wikia is not accessible if you've made further modifications. Remove the custom ad blocker rule(s) and the page will load as expected.