L85A2

Game(s)
Overview
Aliases

L85

Type
Designer

Royal Small Arms Factory

Added since

Taiwan/Hong Kong
13 June 2012

Japan
13 June 2012

Singapore/Malaysia
27 September 2012

Indonesia
10 October 2012

Thailand
25 April 2013

CSN:Z
23 September 2014 (Craft)

Vietnam
26 March 2015 (Craft)

Origin

Source

Price
Game point

Singapore/Malaysia
8000 points (3 days)
24000 (10 days)
64000 (30 days)

Indonesia
35000 (3 days)
105000 (10 days)
280,000 (30 days)

Thailand
1600 (1 day)
3840 (3 days)
11200 (10 days)
28800 (30 days)

Turkey
16000 (3 days)
48000 (10 days)
128000 (30 days)

Price in match

$2250

Statistics
Base damage

26

Accuracy

11%

Recoil

18%

Rate of fire

91%

(Automatic)

88%

(Burst)

Percentage speed reduction

9% (4.98 kg)

Knockback Power

Low

Stun Power

High

Magazine Size

30 / 90

Fire Mode
Ammunition

Reload Time

3.0 seconds

Secondary fire / Modes

Affiliation
Used by

Terrorist counterpart

Others
System name

l85a2
The L85A2 is a Counter-Terrorist assault rifle in Counter-Strike Online.
Overview
The Enfield L85A2 is the standard service rifle of the British Army. It is the improved version of the former version, the L85A1. This weapon was improved by Heckler & Koch and fixed the problems of the L85A1, such as jamming problems and low reliability. The L85A2 was widely used by the British troops during the Afghanistan War and the Iraq War.
Advantages
High rate of fire
3-round burst function is available
Accurate 
Cheap
Purchasable with game points
Disadvantages
Closest Weapon Comparisons

Positive
More accurate (+1%)
Higher magazine size (+5)
Neutral
Same damage (26)
Same price ($2250)
Same recoil (18%)
Same rate of fire (91%)
Negative
Heavier (+5% speed reduction)

Positive
More accurate (+9%)
Has 3-round burst fire mode
Neutral
Same stun and knockback power
Same ammunition type (5.56 NATO)
Same rate of fire in automatic mode (91%)
Same magazine size (30)
Negative
Lower damage (-1)
Higher recoil (+2%)
Gallery
Firing Sound
Drawing sound
Reloading sound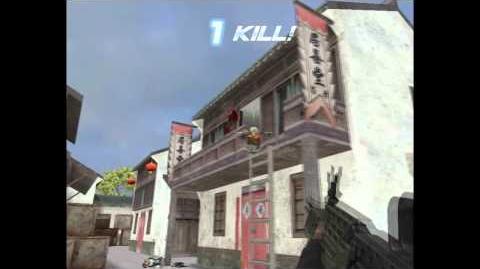 Trivia
This weapon was originally a skin for the FAMAS before it was officially released as a standalone weapon. As a result, it inherits the 3-round burst mode that its real life counterpart doesn't have.
The charge handle can be seen clearly as it is a right hand weapon used with left hand. This can harm the user for each ejected shell out of the chamber.
Before the Free Update patch, this weapon used to have level restriction. The players must achieve level 33 or higher to purchase it.
This is one of the weapons that uses multiple HD textures - as it uses 3 templates of 500px HD textures, instead of just one like most weapons do.