Lightning HZ-1

Game(s)
Overview
Aliases

Heavy Zombie gun
Dada PP

Type

Fictional

Added since

South Korea
23 August 2012

Taiwan/Hong Kong
21 August 2012

Japan
22 August 2012

Indonesia
11 September 2013

Singapore/Malaysia
23 April 2014

Origin

Unknown

Obtained by

Price
Cash point

Taiwan/Hong Kong
399 (Permanent)

Japan
1850 (Permanent)

Indonesia
70000 (Permanent)

Price in match

$3500

Statistics
Base damage

30

Accuracy in long range

16%

Recoil

19%

Rate of fire

91%

Percentage speed reduction

10%

Knockback Power

Low

Stun Power

High

Magazine Size

35 / 90

Fire Mode

Automatic

Ammunition

Reload Time

3.0 seconds

Affiliation
Used by
Others
System name

heavyzg
Lightning HZ-1 (Heavy Zombie-1) or Dada PP is a fictional assault rifle in Counter-Strike Online and a part of Lightning series.
Overview
A heavy zombie inspired-design assault rifle. A unique heavy zombie character is being fed with poison in a baby bottle which shoots poisonous bullets from the butt that is attached on the gun. Lightning HZ-1 holds 35 rounds for each magazine. It boasts its quick movement speed as well as a high damage.
Advantages
Disadvantages
Expensive
Purchasable only by cash points
Only available at limited time
Tips
A 35 rounds of Lightning HZ-1 can do 6000 ~ 8000 damage bosses, provided that the firepower has been maxed.
Does quite high damages to zombies in Zombie Scenario.
Equivalents
Comparison to Lightning LZ-1

Advantages
Higher damage (+3)
Higher accuracy (+7%)
Higher clip size (+5)
Neutral
Disadvantages
Higher recoil (+1%)
Heavier (+1%)
Events
South Korea
This weapon was released on 23 August 2012.
Taiwan/Hong Kong
This weapon was released on 21 August 2013.
This weapon and Lightning LZ-1 was a resale on 19 November 2013.
Japan
This weapon was released alongside Lightning LZ-1 and Poisoning on 22 August 2012.
Singapore/Malaysia
Clearing all Zombie Scenario maps (in a single session) to get [Asura] medal and this weapon for permanent from 23 April ~ 7 May 2014.
Indonesia
This weapon was released alongside Lightning LZ-1 and Zombie Shelter on 11 September 2013.
Gallery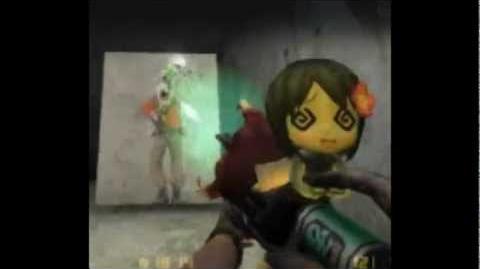 Trivia
The first time this weapon was released in Indonesia, it had no firing and reloading sounds (also happen on Lightning LZ-1 and Daewoo K3). However, this was fixed in the next update.
In idle animation, it shows the SD Heavy zombie makes a mad face to the player but later fall asleep.
In Singapore/Malaysia region, this weapon called "Heavy Zombie Rifle".
What do you think about Panic Room?