Lightning SMG-1

Game(s)
Overview
Aliases

Watergun
Water Cannon
The Thriller Mercury

Type

Fictional Submachine gun

Designer
Added since

Singapore/Malaysia
21 Dec 2011

Turkey
16 Apr 2014

CSN:Z
1 Apr 2015

Vietnam
21 May 2015

Origin

Source

Price
Cash point

N/A

Game point

N/A

Price in match

$2000

Statistics
Base damage

23

Accuracy

21%

Recoil

8%

Rate of fire

92%

Percentage speed reduction

0% (0.5 kg)

Magazine Size

40 / 120

Fire Mode

Automatic

Ammunition

Reload Time

3.5 seconds

Affiliation
Used by
Others
System name

watergun
The Lightning SMG-1 (watergun) is a fictional submachine gun in Counter-Strike Online. This weapon can be obtained through Code Box only.
Overview
The Lightning SMG-1 is fed with 40 rounds of H2O. It has very high accuracy and rate of fire but users with high ping may have trouble getting the full potential out of this weapon. This weapon is operated by a gas-operated system which based on the AK-47.
Advantages
Very high rate of fire
Does not affect the user's speed
Pretty accurate
Low recoil
Cheap in match
Its ammo shares with 9mm
High damage for a submachine gun
High clip size
Disadvantages
Obtainable via code boxes only
Long reload time
Easily runs dry
Comparison to MP5
Positive
Neutral
Same damage (23)
Same accuracy (21%)
Same recoil (8%)
Same rate of fire (92%)
Same ammo type (H2O is technically a 9mm)
Negative
Obtainable only from Coded Box
Longer reload time (+1.0 second)
More expensive (+$500)
Gallery
Firing sound
Draw sound
Reload sound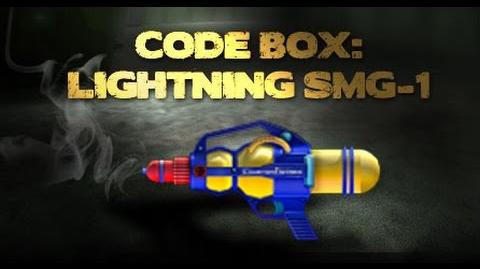 Trivia
There is a "Counter-Strike Online" writing on this weapon.
Actually, this weapon's damage, accuracy, recoil, fire rate and weight is same to MP5.
This is the first water-gun to be brought up officially in FPS.
External links
What is your hero's weapon of choice?
Ad blocker interference detected!
Wikia is a free-to-use site that makes money from advertising. We have a modified experience for viewers using ad blockers

Wikia is not accessible if you've made further modifications. Remove the custom ad blocker rule(s) and the page will load as expected.