"
The A-Team of the Sea
- TW/CN description
"
Lucia

Lucia with Kriss in Toxicity
Overview
Category
Character
Cost
South Korea
8600 Cash (Permanent)

Taiwan/Hong Kong
249 Cash (Permanent)

Japan
960 Cash (Permanent)

China
320 Cash (Permanent)

Singapore/Malaysia
2200 Cash (3 days)
4400 Cash (10 days)
6600 Cash (30 days)
8000 Cash (Permanent)

Indonesia
90000 MI-Cash (Permanent)

Location
Characteristics
Gender
Female
Race
Counter-Terrorist
Faction
Jaciya Navy Force
Health and Abilities
Status
Alive
Signature Primary
Kriss Super V
Abilities
Hand kiss
Marine dance
Others
Date added
Singapore/Malaysia
4 July 2012

Indonesia
14 August 2013

System name
marinegirl
For her Counter-Terrorist teammate, see Enzo.
Lucia is a cash female character comes with 2 unique emotions in Counter-Strike Online.
Background
She is a team leader of Garcia fleet's Counter-Terrorist. She became the team leader as she has achieved a big accomplishment in the battle with terror happened in the Indian Ocean. She might be sensed something when a terror has occurred which is using supplies to explode that is sent to her, so she leads her team to pursuit the criminal.
This is a unique emotion class which is allowed to use 2 special emoticons, 'Kiss on hand/Dance'.
Release date
Favorite weapon

Gallery
Marine dance
Hand kiss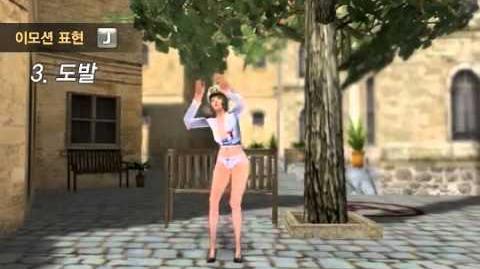 Did you bought this character permanent?
Have you purchased the BALROG-XI and how is it?