M1 Garand

Game(s)
Overview
Type
Designer

John C. Garand

Added since

South Korea
19 November 2015

China
2 December 2015

Taiwan/Hong Kong
12 April 2016

Origin

Source
Recommended in
Price
Statistics
Knockback Power

Low

Stun Power

High

Fire Mode

Semi-automatic

Ammunition

Affiliation
Used by
Others
M1 Garand is a semi-automatic rifle in Counter-Strike Online 2.
Overview
This semi-automatic rifle uses 8 rounds of 7.62 NATO bullet loaded in en-bloc clips. It is incomparable efficiency to take out enemies with little effort spread terror during the World War II.
Advantages
High damage
High accuracy
Disadvantages
Release date
This weapon was released through Combination System on:
South Korea: 19 November 2015.
China: 2 December 2015.
Taiwan/Hong Kong: 12 April 2016.
Gallery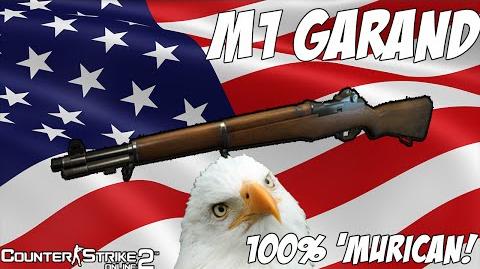 Trivia
External link
Ad blocker interference detected!
Wikia is a free-to-use site that makes money from advertising. We have a modified experience for viewers using ad blockers

Wikia is not accessible if you've made further modifications. Remove the custom ad blocker rule(s) and the page will load as expected.