Needler

Game(s)
Overview
Aliases
Type
Added since

South Korea
23 April 2013

Taiwan/Hong Kong
16 May 2013

China/Japan
16 May 2013

Singapore/Malaysia
28 January 2014

Indonesia
23 September 2015

CSN:Z
8 June 2016

Origin

Source
Price
Price in match

$4750

Statistics
Base damage

29

Accuracy

12%

Recoil

17%

Rate of fire

85%

Percentage speed reduction

0%

Magazine Size

100 / 200

Fire Mode

Automatic

Ammunition

Reload Time

3.5 seconds

Secondary fire / Modes

Affiliation
Used by
Others
System name

coilgun
Needler is a fictional submachine gun in Counter-Strike Online obtainable randomly from Code Box only.
Overview
Needler is a coil gun that fires 100 rounds of nail for each clip. It has a high magazine size and is light in term of weight. When shooting at solid surfaces, the nails will be reflected.
Advantages
Nails can be reflected
High magazine size
High damage
Decent accuracy
Disadvantages
Low rate of fire
Nails cannot penetrate objects
Expensive
Rarely found in Coded Box
Nails are not hitscan
Release date
South Korea: 23 April 2013.
Taiwan/HongKong: 16 May 2013.
China/Japan: 16 May 2013.
Singapore/Malaysia: 28 January 2014.
Indonesia: 23 September 2015.
CSN:Z: 8 June 2016.
Gallery
Shooting sound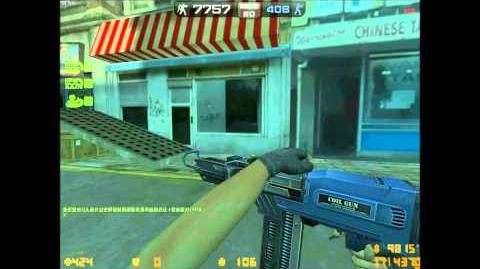 Trivia
There is a "Coil Gun" print on the shell ejector plate.
This is the first weapon introduced with reflecting projectiles, though it was first introduced in Half-Life by Tau Cannon. (Note that Counter-Strike Online uses Half-Life's engine called GoldSrc)
The Needler has the highest magazine capacity of all submachine guns so far.
Oddly, the Taiwan/Hong Kong and Singapore/Malaysia regions use the Crossbow's firing sound instead. 
External links
Which Battle Weapons is your favorite?
Ad blocker interference detected!
Wikia is a free-to-use site that makes money from advertising. We have a modified experience for viewers using ad blockers

Wikia is not accessible if you've made further modifications. Remove the custom ad blocker rule(s) and the page will load as expected.