Norinco Type 86S

Game(s)
Overview
Type
Designer

Norinco (China North Industries Corporation)

Added since

South Korea
4 June 2015

Taiwan/Hong Kong
9 June 2015

China/Japan
10 June 2015

Indonesia
23 September 2015

Vietnam
4 February 2016

Origin

Source

Recommended in
Price
Price in match

$3200

Statistics
Base damage

27

Accuracy

89%

Recoil

29%

Rate of fire

91%

Percentage speed reduction

9%

Knockback Power

Low

Stun Power

High

Magazine Size

30 / 90

Fire Mode

Automatic

Ammunition

Reload Time

3.5 seconds

Affiliation
Used by
Others
System name

norinco86s
Norinco Type 86S is an assault rifle in Counter-Strike Online.
Overview
Introduced in 1986, Norinco 86S is a gas-operated, rotating bolt, bullpup assault rifle fed with 30 rounds of 7.62 NATO. Its high caliber rounds offer high damage per shot but in return comes with high recoil as penalty.
Advantages
High accuracy
High rate of fire
Light weight
High magazine size
Disadvantages
Low damage
High recoil
Long reloading time
Obtainable through events only
Release date
South Korea: 4 June 2015.
Taiwan/Hong Kong: 9 June 2015.
China/Japan: 10 June 2015.
Indonesia: 23 September 2015.
Vietnam: 4 February 2016.
Obtaining Procedures
This weapon can be obtained by participating in the Special Mission event:
Duration Extender can be used to extend the duration of Norinco Type 86S.
Obtainable by completing Special Missions (100-day duration for each time completing). Note that a Special Mission can only be completed once per day.
Permanent status can be obtained after collecting it for 1000 days.
Player can choose other prizes as well after completing Special Mission.
This weapon can be obtained by playing any Big Head Event's maps for 30 minutes each day during event:
5 times = 100 days.
10 times = permanent.
Each 30 minutes = 1 time, can be done once per day.
Comparison to QBZ-95B
Positive
Higher damage (+1)
Higher accuracy (+12%)
Higher stun power
Neutral
Same rate of fire (91%)
Can be purchased by both teams
Negative
More expensive (+$1200)
Higher recoil (+11%)
Heavier (+5%)
Lower magazine size (-5)
Longer reloading time (+1.2 seconds)
Gallery
Shoot sound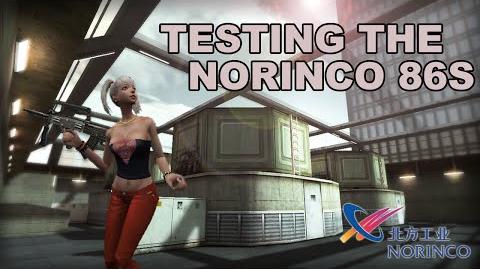 Trivia
The Norinco Type 86S is an AKM-type bullpup rifle and that was produced by Norinco. It operates the same way as other AKM-type rifles with a few exceptions. Many major parts are interchangeable with other standard Kalashnikov rifles.
The reloading style is similar to the Beretta ARX-160.
The firing sound is similar to CROW-5.
External link