Pesticide Sprayer
Game(s)
CSO
Overview
Type
Added since

South Korea
10 August 2017

Origin

Korea

Source
Price
Price in match

$6000

Statistics
Base damage

78

Accuracy

N/A

Recoil

N/A

Rate of fire

48%

Percentage speed reduction

14%

Knockback Power

N/A

Stun Power

N/A

Magazine Size

30

Fire Mode

Automatic

Ammunition

Special Poison

Reload Time

1.0s second

Affiliation
Used by

Human

Others
System name

pesticidesprayer
Pesticide Sprayer is an equipment in Counter-Strike Online.
Overview
A weapon that uses special poison that can be used 30 times when filled. Strong poisonous gas on the floor can prevent the enemy from moving. The higher the pressure, the farther you can fire.
Advantages
High damage
Can perform headshot
High stun power
High magazine size
Can hit multiple target at once
Can hit target in long distance
Disadvantage
Low rate of fire
No knockback power
Heavy weight
Easily run dry
Need time to make the shot hit in distance
Obtainable through events only
Expensive in matches
Release date
South Korea: 10 August 2017.
Taiwan/Hong Kong: 16 August 2017.
China: 17 August 2017.
Indonesia: 11 October 2017.
Gallery
Firing sound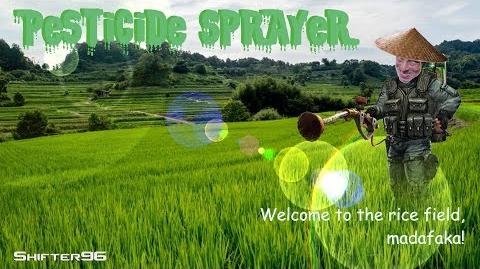 Trivia
Which Battle Weapons is your favorite?
Ad blocker interference detected!
Wikia is a free-to-use site that makes money from advertising. We have a modified experience for viewers using ad blockers

Wikia is not accessible if you've made further modifications. Remove the custom ad blocker rule(s) and the page will load as expected.