Python Desperado
Game(s)
CSO
Overview
Aliases

Buff Python

Type
Added since

South Korea
20 April 2017 Taiwan/Hong kong
25 April 2017 China/Japan
26 April 2017

Source

Premium Top 50 Decoder

Price
Price in match

$1500

Statistics
Base damage

35

Accuracy

90%

Recoil

6%

Rate of fire

90%

Percentage speed reduction

-5%

Knockback Power

Medium

Stun Power

High

Magazine Size

7 / 200

Fire Mode

Full-auto

Ammunition
Reload Time

0.7 seconds

Secondary fire / Modes

Affiliation
Used by

Human

Others
Variants
System name

desperado
Python Desperado is a pseudo-akimbo pistol in the Transcendence Series.
Overview
This item can be obtained from Premium Top 50 Decoder.
This is the modified version of Colt Python with 7 rounds of .44 Fast Draw each. This revolver uses special magnum bullets that are quickly fired with the fanning technique. It is automatically loaded when you draw the other hand pistol.
Advantages
High damage
High accuracy
Low recoil
High rate of fire
Very short reload time
Move 5% faster than knife
Disadvantages
Easily run dry
Obtainable through release event only (so far)
Expensive
Release date
South Korea: 20 April 2017.
Taiwan/Hong kong: 25 April 2017.
China/Japan: 26 April 2017.
Tips
Use left click to fire the man version while right click to fire woman version.
Its ammo can run dry quickly if the user doesn't conserve ammo.
Use

RMB

to give knockback effect and

LMB

for stun effect to zombies.
Users
Comparison to Crimson Hunter
Positive
Lighter (-5%)
Higher damage (+2)
Higher accuracy (+23%)
Higher spare ammo (+100)
Shorter reload time (-2.8s)
Higher rate of fire (+23%)
Low recoil (-14%)
Cheaper (-$300)
Neutral
Same stun power in both mode
Same buff effect if in possession
Negative
Harder to obtain
Easily run dry (If the user doesn't conserve ammo)
Lower magazine size (-23)
Does not have grenade
Gallery
Firing sound
Reload sound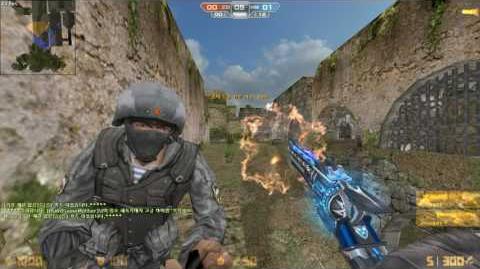 Trivia
This weapon uses the fanning technique which is a revolver shooting technique in which one hand holds the trigger and the other hits the hammer repeatedly.
This is first akimbo Transcendence Series weapon.
The firing sound is nearly similar to Dual Kriss Custom.
The word "DESPERADO" can be seen on both Man and Woman weapon's body.
This weapon produces a unique muzzle flare when fired.
This is the first weapon to have a running animation.
This is the first pistol that is lighter than wielding a knife.
It closely resembles Mc Cree's Peacekeeper weapon in Overwatch with the Fan the Hammer ability.
This is the first non-melee weapon in the Transcendence Series, that isn't based on any of the original Counter Strike weapons.
External link
Which Brick Piece Weapon do you want the most?
Ad blocker interference detected!
Wikia is a free-to-use site that makes money from advertising. We have a modified experience for viewers using ad blockers

Wikia is not accessible if you've made further modifications. Remove the custom ad blocker rule(s) and the page will load as expected.