Quad-barreled shotgun
Game(s)
Overview
Aliases

Quad Barrel

Type
Added since

Origin

Price
Cash point

N/A

Game point

N/A

Price in match

N/A

Statistics
Base damage

85%

Accuracy

N/A

Recoil

88%

Spray pattern

Split

Rate of fire

87%

Percentage speed reduction

4% (2kg)

Knockback Power

Extremely High

Stun Power

Low

Magazine Size

4 / 150

Fire Mode
Ammunition

Reload Time

3.0 seconds

Secondary fire / Modes

4-round burst

Affiliation
Used by
Others
System name

qbarrel
Quad-barreled shotgun or simply Quad Barrel is a shotgun exclusive to Hero/Heroine in Zombie: The Hero.
Overview
The Quad Barrel can only be obtained randomly by Hero/Heroine. It is an upgraded version of the Double-barreled shotgun and is able to fire four shells, either one at a time or all four at once.
This weapon is one out of the four exclusive weapons that can be chosen by the Hero/Heroine in Zombie 3: Hero. Moreover, it cannot be dropped by the player nor Deimos' shock ability.
Advantages
Very high damage
Very high knockback power
High rate of fire
Light weight
High reserve ammo
Able to perform 4-round burst
More accurate when using the secondary fire mode
Disadvantages
Small magazine capacity
Long reload time
Cannot shoot while reloading
Usable by Hero/Heroine only
Easily runs dry
Moderate against Heavy zombie
Users
Tactics
The performance of this weapon is very poor in the ducts due to its shotgun shells that are unable to penetrate more than one zombie.
Shoot zombies on incline planes or while they are airborne to knock them far away.
Prioritize on targeting the Light zombie because it has low knockback resistance.
Shoot zombies with the secondary fire of this gun to knock them far away.
Comparison to Double Barrel

Positive
Higher clip size (+2)
Able to perform 4-round burst
Neutral
Same damage, recoil, fire rate and weight
Shares the same ammo
Negative
Cannot be purchased other than becoming the Hero/Heroine
Longer reload time
Gallery
Firing sound
Reload sound
Draw sound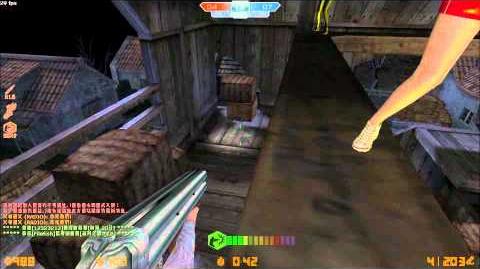 Trivia
Quad-barreled shotguns do exist in real-life, such as the Winchester Liberator. It was a simple shotgun designed for civilians and militias in the Vietnam War era.
Before the Zombie Mode Rework patch, this weapon was exclusive for Heroine only.
Even though Quad Barrel is exclusive to the Hero/Heroine, in Zombie File, there is a cutscene which shows David Black saving Soy with this gun at the end of the Third Report.
Like the Triple Barrel, the Quad Barrel's reload animation takes longer than the actual reloading time.