Sapientia

Game(s)
Overview
Aliases

Anaconda Holy

Type
Designer

Added since

South Korea
25 June 2015

Taiwan/Hong Kong
30 June 2015

China/Japan
1 July 2015

CSN:Z
14 April 2016

Indonesia
27 April 2016

Origin

Unknown

Source

Recommended in
Price
Price in match

$1300

Statistics
Base damage

42

Accuracy

68%

Recoil

30%

Rate of fire

83%

Percentage speed reduction

0%

Knockback Power

Low

Stun Power

High

Magazine Size

7 / 35

Fire Mode

Double-action

Ammunition

Reload Time

2.0 seconds

Affiliation
Used by
Others
System name

sapientia
For the original weapon, see Anaconda.

Sapientia is a premium pistol obtainable from Bingo Event in Counter-Strike Online.
Overview
This is a modified version of Colt Anaconda fed with 7 rounds of .50 AE Holy, a special ammunition made by holy water. Upon hitting zombies, the holy water will give an afterburn effect to the enemies.
Advantages
High damage
High accuracy
Low recoil
High rate of fire
Light weight
Short reload time
Has afterburn and explosive effects
Explosion can affect nearby targets
Disadvantages
Release date
South Korea: 25 June 2015.
Taiwan/Hong Kong: 30 June 2015.
China/Japan: 1 July 2015.
CSN:Z: 14 April 2016.
Indonesia: 27 April 2016.
Tips
Zombie Infection
The afterburn effect lasts around 1 second per hit, subsequent successful shots will then increase the total duration.

The explosion radius causes splash damage and will also affect those hit through an object.
Comparison to Anaconda

Positive
Higher damage (+3)
Has afterburn and explosive effects
Neutral
Same accuracy (68%)
Same recoil (30%)
Same rate of fire (83%)
Same speed reduction (0%)
Same stun and knockback powers
Same magazine size (7/35)
Same reloading time (2s)
Negative
More expensive (+$700)
Only obtainable through Bingo
Users
Gallery
Shoot sound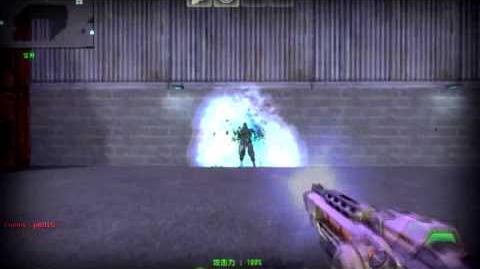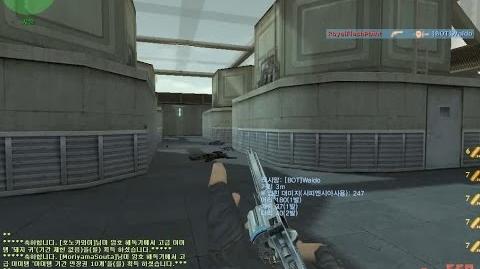 Trivia
In the Roman Catholic tradition, the epithet "the Seat of Wisdom" or "Throne of Wisdom" (a translation of the still-used Latin "sedes sapientiae") is identified with one of many devotional titles for the Mother of God.
This is the fifth revolver that appears in Counter-Strike Online after Anaconda, SKULL-1, King Cobra and Dart Pistol.
Its barrel features as a cross.
External link
Which Battle Weapons is your favorite?
Ad blocker interference detected!
Wikia is a free-to-use site that makes money from advertising. We have a modified experience for viewers using ad blockers

Wikia is not accessible if you've made further modifications. Remove the custom ad blocker rule(s) and the page will load as expected.