Shooting Star

Game(s)
Overview
Aliases

Firecracker

Type
Added since

South Korea
3 May 2012

Taiwan/Hong Kong
15 May 2012

China/Japan
16 May 2012

Indonesia
8 October 2013

Singapore/Malaysia
7 May 2014

CSN:Z
1 April 2015

Vietnam
21 May 2015

Origin

Source

Recommended in
Price
Price in match

$2100

Statistics
Base damage

70

Accuracy

N/A

Recoil

0%

Rate of fire

10% (5-7 RPM)

Percentage speed reduction

0% (2 kg)

Knockback Power

N/A

Stun Power

N/A

Magazine Size

5

Fire Mode

Break-action

Ammunition

Reload Time

3.0 seconds

Secondary fire / Modes

Rubber shells

Affiliation
Used by
Others
System name

firecracker

Shooting Star is a grenade launcher in Counter-Strike Online based on the M79 Saw off obtainable randomly from Code Box.
Overview
Shooting Star will be equipped in the pistol slot. This is a modified version of a grenade launcher that fires flame flare. It holds 5 rounds for each round with 40mm flare and its mobility has been increased by cutting the gun barrel and butt plate. The secondary fire mode can make the grenade bounce before exploding.
Advantages
Grenades can bounce
Light weight
Short reload time
Disadvantages
Expensive
Extremely hard to see surroundings when the firecracker explodes
Available via code boxes only
Low magazine size
Tips
1 round of Shooting Star can deal 200 damage to a zombie.
Events
South Korea: 3 May 2012.
Taiwan/Hong Kong: 15 May 2012.
China/Japan: 16 May 2012.
Indonesia: 8 October 2013.
Singapore/Malaysia: 7 May 2014.
CSN:Z: 1 April 2015.
Vietnam: 21 May 2015.
Comparison to M79

Positive
Grenades can rebound when using the secondary fire mode
Neutral
Same damage (70)
Same recoil
Same accuracy
Same weight (0% speed reduction)
Same rate of fire (10%)
Same price ($2100)
Negative
Obtainable via Code boxes only
Gallery
Bounce sound
Ditto
Ditto
Draw sound
Explode sound
Fire sound
Ditto
Wick sound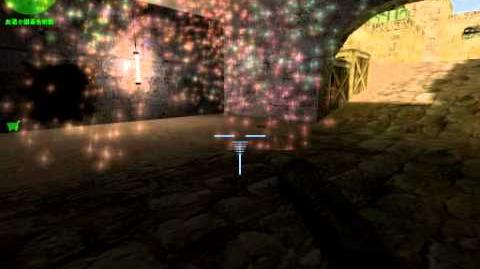 Trivia
Shooting Star means a small and rapid moving meteor burning upon entering the Earth's atmosphere.
This weapon is also called firecracker as the rounds explode similar to normal fireworks or as shown in the game files.
The word "Firecracker" can be seen on the grip.
The iron sight is removed.
Which Top 50 Decoder weapon is your choice?
Ad blocker interference detected!
Wikia is a free-to-use site that makes money from advertising. We have a modified experience for viewers using ad blockers

Wikia is not accessible if you've made further modifications. Remove the custom ad blocker rule(s) and the page will load as expected.