Skull-8

Game
Game(s)

Overview
Aliases

SK8
Gun Blade
Skull Bayonet
碎魂利刃Skull-8 (China)

Type
Designer
Added since

South Korea
27 June 2013

Taiwan/Hong Kong
2 July 2013
21 January 2014 (Resale)

China
3 July 2013

Indonesia
29 January 2014

Origin
Obtained by

Price
Cash point

Korea
11800 (Permanent)

Taiwan/Hong Kong
719 (+ AWP-Z, both permanent)
399 (Permanent)

China
890 (Permanent)

Indonesia
120.000 Mi-Cash(Permanent)

Price in match

$6200

Statistics
Base damage

30

Accuracy in long range

14%

Recoil

23%

Spray pattern

Straight upward

Rate of fire

90%(600 RPM)

Percentage speed reduction

9%

Knockback Power

Low

Stun Power

High

Magazine Size

120 / 240

Fire Mode

Automatic

Ammunition

Reload Time

4.43 seconds

Secondary fire / Modes

Affiliation
Used by
Others
System name

skull8
Skull-8 is a machine gun attached with an underbarrel axe bayonet in the Skull series.
Overview
Skull-8 is a belt-fed, anti-zombie machine gun that fires 120 rounds of 5.56mm Anti-zombie ammunition. It is attached with a light axe bayonet under the weapon's barrel to be used for emergency melee combat situations. The weapon's primary fire has superior penetration towards Kevlar.
Advantages
Does a melee attack for the weapon's secondary fire
High damage to zombies
High rate of fire
Bullets penetrate up to 4 objects
Light weight
Disadvantages
Does not have scope
Expensive price
Long reload time
Lowest damage to humans (among the Skull machine guns)
Tips
Use the secondary fire for surprise attacks as the attack range is rather short and not suitable for close combat situations.
Each shot can penetrate up to 4 objects.
Use the secondary fire when you are out of ammunition. The secondary fire of this weapon may still help in killing zombies.
Note the attack delay of the secondary fire.
A 120 rounds of Skull-8 can deal 3600 ~ 7200 damage to zombies.
The attack damage and range for the secondary fire is lower and shorter than the Skull-9.
The firepower is the same as the MG3.
The weight is the same as the M4A1.
Events
Skull-8 was released alongside Plasma and Beam Sword on:
South Korea: 27 June 2013.
Taiwan/Hong Kong: 2 July 2013.

There was a resale on 21 January 2014.

China: 3 July 2013.
Skull-8 was released alongside Gallery and Battle weapons on:
Indonesia: 29 January 2014.
Comparison to Skull-7

Advantages
Cheaper (-$2800)
Lighter (+5% move speed)
Can do melee attack
Neutral
Disadvantages
Lower damage (-1)
Less accurate (-2%)
Higher recoil (+3%)
No scope
Gallery
Shoot sound
Slash axe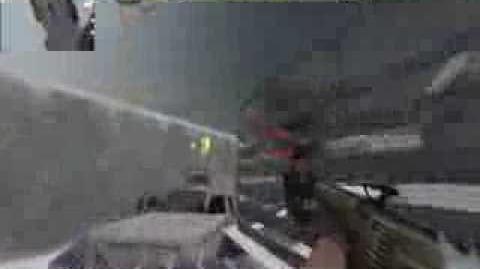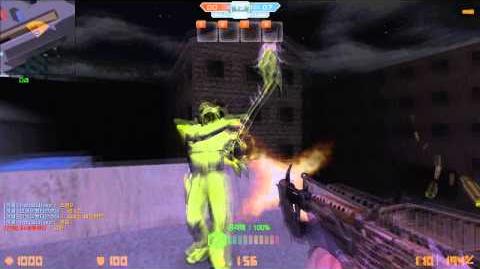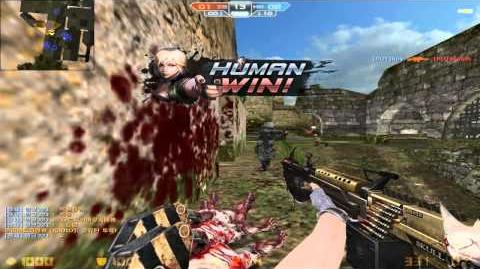 Trivia
This is the second even numbered weapon in the Skull series. The first one is Skull-4.
This weapon is the third to feature a melee attack mode as its secondary fire in Counter-Strike Online.
The model of Skull-8 has already been predicted since the release of Panic Room.
Skull-8 is the combination of Skull-7 and Skull-9, making it the first permanent weapon to feature a melee attack.
The word "Gun Blade" is printed on the axe.
Skull-8 is the first non-cartridge weapon that allows the user to "reload cancel"; by using the melee attack while reloading.
The melee attack also inflict small knockback.
Do you like the weapons in CSO?