Stoeger Double Defence

Game(s)
Overview
Type
Designer

Stoeger Industries

Added since

South Korea
1 January 2015

China
22 April 2015

Taiwan/Hong Kong
18 February 2016

Origin

Source
Recommended in
Price
Cash point

South Korea
₩5000 (Permanent)

China
400 Cash (Permanent)

Price in match

$2000

Statistics
Base damage

85

Accuracy

N/A

Recoil

83%

Percentage speed reduction

5%

Knockback Power

High

Stun Power

High

Magazine Size

2 / 36

Fire Mode

2-round burst

Ammunition

Affiliation
Used by
Others
Variants

Stoeger Double Defence is a break-action, double-barreled shotgun in Counter-Strike Online 2.
Overview
This is a double barrel shotgun fed with 2 rounds of 12 gauge. It unloads both shells per shot and have a very high firepower.
Release date
South Korea: 1 January 2015.
China: 22 April 2015.
Taiwan/Hong Kong: 18 February 2016.
The player can choose to unlock the Double Defence instead of buying from shop, by collecting 2000 kill points from M3.
Gallery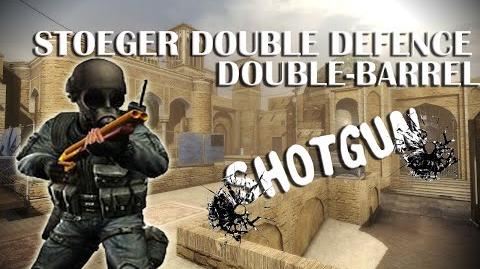 Trivia
This shotgun is actually based on the Double-barreled shotgun in Counter-Strike Online. However, the Double-barreled shotgun cannot be fired in 2-round burst, while the Stoeger Double Defence cannot fire each bullet at once.
External link
Ad blocker interference detected!
Wikia is a free-to-use site that makes money from advertising. We have a modified experience for viewers using ad blockers

Wikia is not accessible if you've made further modifications. Remove the custom ad blocker rule(s) and the page will load as expected.