de_storm

Compatible Modes
Author
FLiPMoDE Daank (map)

Details
Max Player Count

32

Map Size

Large

Release Date

South Korea
22 October 2015

China
4 November 2015

Location

Armory

Structure

Complicated

Time

Stormy evening
Storm (de_storm) is a bomb defuse map in Counter-Strike Online 2.
Official description
Storm takes place in a castle-like armory. There are two bomb sites in this map.
Missions
Terrorists: There is an attempt to arm small country your faction wishes to attack for the political reasons. Stop the weapons from reaching them.
Counter-Terrorists: Protect weapons crates. These weapons are to be delivered to an allied country threatened by terrorists.
Release date
South Korea: 22 October 2015.
China: 4 November 2015.
Gallery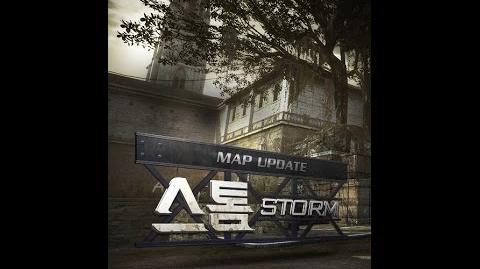 Ad blocker interference detected!
Wikia is a free-to-use site that makes money from advertising. We have a modified experience for viewers using ad blockers

Wikia is not accessible if you've made further modifications. Remove the custom ad blocker rule(s) and the page will load as expected.