Stun Rifle
Game(s)
CSO
Overview
Type
Added since

South Korea
19 October 2017

Source
Price
Price in match

$3600

Statistics
Base damage

30

Accuracy

90%

Recoil

15%

Rate of fire

90%

Percentage speed reduction

7%

Knockback Power

Low

Stun Power

High

Magazine Size

30 / 90

Fire Mode

Automatic

Ammunition
Reload Time

3.0 seconds

Secondary fire / Modes

Affiliation
Used by

Human

Others
System name

stunrifle
Stun Rifle is an assault rifle in Counter-Strike Online.
Overview
This item can be obtained from Top 50 Decoder.
This is an assault rifle fed with 30 rounds of 5.56 NATO. It uses Energy Storage System technology that can release accumulated energy during the reloading to block the enemies ahead. The electrical attack cannot pass through obstacles or players.
Release date
South Korea: 19 October 2017.
Gallery
Shoot sound
Ditto, during the reloading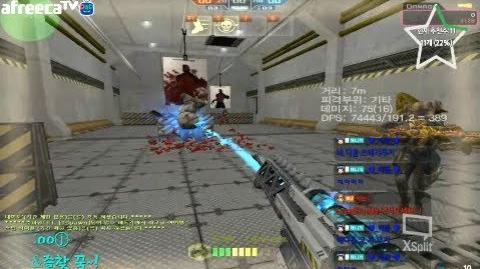 Trivia
The weapon model is based on the Daewoo K1A while the lightning mechanism is based on the JANUS-7. The lightning is stronger if reloaded when the ammo is zero, which reuses the mechanism from VULCANUS-3.
Ad blocker interference detected!
Wikia is a free-to-use site that makes money from advertising. We have a modified experience for viewers using ad blockers

Wikia is not accessible if you've made further modifications. Remove the custom ad blocker rule(s) and the page will load as expected.