TDI Kriss Super Vector
1,371battles on
this wiki
Comments

69
TDI Kriss Super Vector

Game(s)
Overview
Aliases
Type
Designer

Transformational Defense Industries

Added since

Japan
8 Jun 2010 (Single)
8 Dec 2011 (Dual)

Singapore/Malaysia
1 Mar 2011

Indonesia
28 Mar 2012

Turkey
6 Nov 2013

CSN:Z
27 Nov 2014 (Craft)

Vietnam
26 Mar 2015 (Craft)

Origin

Source

Recommended in
Price
Cash point

Singapore/Malaysia
1100 (3 days)
2200 (10 days)
3300 (30 days)
9000 (Permanent)

Japan
170 (3 days)
340 (10 days)
510 (30 days)
1500 (Permanent)

Indonesia
5000 (1 day)
10,000 (3 days)
20,000 (10 days)
30,000 (30 days)
80,000 (Permanent)

Turkey
250 (1 day)
650 (3 days)
1800 (10 days)
5000 (30 days)

Price in match

$1700 (Single)
$2000 (Dual)

Statistics
Base damage
Accuracy
Recoil

14%

Spray pattern

Upward

Rate of fire
Percentage speed reduction
Knockback Power

Low

Stun Power

Low

Magazine Size

30 / 100 (Single)
50 / 100 (Dual)

Fire Mode

Automatic

Ammunition

Reload Time

3.5 seconds (110 frames)

Secondary fire / Modes

Affiliation
Used by
Others
Variants
System name

kriss
TDI Kriss Super Vector is a cash point submachine gun in Counter-Strike Online.
Overview
TDI Vector or Kriss Super V is an American submachine gun fed with 30 rounds of .45 ACP. It boasts excellent accuracy even in continuous fire, making it reliable in various situation. Silencer can be attached to the SMG for player who refer stealth.
Kriss Super V can be upgraded to Dual Kriss through a limited time upgrading event.
Advantages
Cheap price ($1700)
Attachable silencer
High damage for a submachine gun
Low recoil
Light weight
Disadvantages
Share the same ammunition with .45 ACP pistols
Low damage with silencer installed
Long reload time for a submachine gun
Low accuracy in long range
Events
Japan: 8 June 2010.
Singapore/Malaysia: 1 March 2011.
Indonesia: 28 March 2012.
Turkey: 6 November 2013.
CSN:Z: 27 November 2014.
Vietnam: 26 March 2015.
Users
Tips
Range
0m
36m
Helmet
Yes
No
Yes
No
Head (Without silencer)
67

112

40
68
Head (With silencer)
60

108

36
64
| Mode | Buy cost | Ammo cost | Total |
| --- | --- | --- | --- |
| Original | $1700 | $225 | $1925 |
| Scenario | $1700 | $1250 | $2950 |
Tactics
Aim for the gut, as it can kill an enemy with just less than 5 bullets.
Counters
Since it has moderate recoil and damage, the player is recommended to strike the user in groups or use stronger weapon to kill the user in with no time.
Comparison to UMP45
Positive
Higher rate of fire (+1%)
More accurate (+2%)
Higher magazine size (+5)
Can attach silencer
Can be upgraded
Neutral
Same buy cost ($1700)
Same ammo type (.45 ACP)
Negative
Lower damage (-1)
Higher recoil (+5%)
Heavier (+2%)
Longer reload time (+0.2 seconds)
Variants
Overview
Dual Kriss is the limited dual-wielded edition of Kriss Super V. It can be obtained from 'Kriss Upgrade Event' only. It has higher magazine size, firepower, accuracy and rate of fire than the original one. However, it costs higher, heavier due to dual-wielded and cannot be attached with silencer.
Tips
Range
0m
36m
Helmet
Yes
No
Yes
No
Head
68

116

44
75
Comparison to Single Kriss

Positive
Higher damage (+1)
Higher fire rate (+2%)
Higher clip size (+20)
Neutral
Negative
More expensive (+$300)
Less accurate (-1%)
Heavier (+5%)
Cannot attach silencer
The Dual Kriss Custom is a special modification of Kriss Super V, fed with 70 rounds of 7.62 NATO (35 rounds for each gun), Holographic Sights and fitted with a muzzle brake. It has 1x zoom as the secondary mode.
This weapon is only obtainable randomly by Hero/Heroine in Zombie 3: Hero. Moreover, it cannot be dropped by the player nor the Deimos's shock ability.

A submachine gun developed by Aegis Institute based on the Kriss Super V and fed with 45 rounds of .45 ACP. It is equipped with Vulcanus Parts System that allows the gun to expand up to 4 muzzles, after firing a certain number of rounds. The extra muzzles will disappear if stop shooting.
Gallery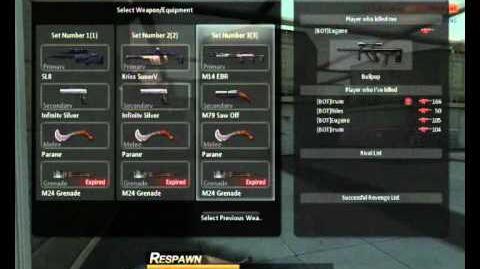 Firing sound
Drawing sound
Reloading sound
Cocking
Trivia
Both Kriss variants have unusable EO-Tech holographic sights.
There is a Dual Kriss' world model shows that it had silencers attached, despite that it can't even attached in the first place.
Dual Kriss is the second dual-wielded submachine gun in Counter-Strike Online. The first one is Dual MP7A1.
This weapon can be loaded with either 25 or 30 bullets, however, the Dual Kriss is loaded with 25 bullets for each.
In Taiwan/Hong Kong server, despite the poster said Kriss Super V needs 2000 points to be upgraded into Dual Kriss it only needs 500 points to be upgraded, similar to Master Combat Knife upgrade event.
Unlike SKULL-3 and Dual MP7A1s, Dual Kriss is the only dual-wielded sub-machine gun that is not thrown away during its reload animation.
External links
What is your hero's weapon of choice?