THANATOS-3

Game(s)
Overview
Aliases

TN3
Thanatos submachine gun
塔納托斯的殘翼THANATOS-3 (TW/HK)

Type
Designer
Added since

South Korea
19 November 2015

Taiwan/Hong Kong
24 November 2015

China/Japan
25 November 2015

Indonesia
11 May 2016

CSN:Z
25 May 2016

Origin

Source

Recommended in
Price
Cash point

Confirmed Set

4900 Nexon Cash (South Korea)
$13.99 (CSN:Z)

Price in match

$4000

Statistics
Base damage

25

Accuracy

71%

Recoil

9%

Rate of fire

92%

Percentage speed reduction

3%

Knockback Power

Low

Stun Power

High

Magazine Size
Fire Mode

Automatic

Ammunition
Reload Time

3.5 seconds

Secondary fire / Modes

Affiliation
Used by
Others
System name

thanatos3
For the original version, see MP7A1.
THANATOS-3 is a THANATOS submachine gun in Counter-Strike Online.
Overview
A submachine gun developed by Aegis Institute based on the MP7A1 60R and fed with 4.6×30mm. After firing a pre-determined number of rounds, the Thanatos Blade System will be unlocked to yield additional firepower through the generated blades.  
This weapon can be obtained from Blueprint No. 4.
Advantages
High damage for a SMG in A mode
High accuracy
Low recoil
High rate of fire
Light weight
High magazine size 
Thanatos form can be activated automatically upon firing
Can shoot multiple blades at once in B mode
Blades stun enemies while simultaneously dealing damage
Disadvantages
Expensive
Ammunition easily runs dry, especially to get a full set of blades
Long reloading time
Blades do not instantly hit a target
Obtainable via Crafting only
Blades drop over distance, especially the followed-up ones
THANATOS-3 Confirmed Set
With this set, the player can get the THANATOS-3 for sure from Craft using the Perfect Pick Recipe item, but the durability will determine the period of the weapon.
Release date
South Korea: 19 November 2015.
Taiwan/Hong Kong: 24 November 2015.
China/Japan: 25 November 2015.
Indonesia: 11 May 2016.
CSN:Z: 25 May 2016.
Tips
Overall
The Thanatos form will be activated automatically, rather than using the secondary fire (

RMB

by default) to transform or charge the blades.
The THANATOS-3 stacks up to 12 blades in three sets. However, it can launch any one of the three sets at one's disposal. Blades can be stacked up to three times: 12 bullets = 2 blades; 24 bullets = 6 blades; 36 bullets = 12 blades.
Once the blades are launched (

RMB

by default), the gun will revert back to its original form.
Upon hitting a target (except walls), the blades will momentarily stun and surround the target, decreasing their HP for 5 seconds. This also affects multiple enemies should the projectiles link up.
When the blade is surrounding the target, it will emit a loud blade cutting sound which disturb nearby players hearing.
The blade can go through teammate's body.
In B mode, this weapon can deals 13,000 ~ 19,000 damage to bosses, provided that attack power has been maxed.
Users
Comparisons
Positive
Higher magazine size (+40)
Higher spare ammo (+40)
Has Thanatos Blade System
Neutral
Same damage (25)
Same accuracy (71%)
Same recoil (9%)
Same rate of fire (92%)
Same damage and knockback powers
Same ammunition (4.6×30mm)
Same reloading time (3.5s)
Negative
More expensive (+$1850)
Heavier (+3%)
Does not have semi-auto mode
Obtainable through Crafting only
Positive
Lower recoil (-35%)
Higher rate of fire (+1%)
Lighter (-6%)
Higher magazine size (+10) and spare ammo (+20)
Has Thanatos Blade System
Neutral
Same price ($4000)
Same stun and knockback powers
Same reloading time (3.5s)
Negative
Lower damage (-3)
Lower accuracy (-25%)
Does not have Janus Transformation System
Gallery
Shooting sound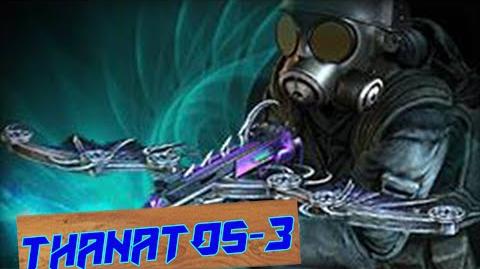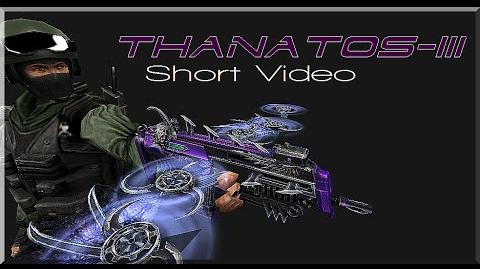 Trivia
Its Thanatos form is designed similar to THANATOS-11, THANATOS-5 and THANATOS-1, with 2 wings unfolded. However, the blades are located on the wings instead.
Some regions use the normal MP7 sound as the firing sound instead of the new one.
There is a bug whenever a player achieves a frag with the blades but is carrying other weapon, the kill icon will show the current weapon instead.
The blades will be glowing according to the faction the player is playing in Zombie: The Union.