TURBULENT-5

Game(s)
CSO
Overview
Aliases

M14 EBR Turbulent

Type
Added since

South Korea
9 February 2017

Taiwan/Hong Kong/China'
14 February 2017

Japan
15 February 2017

Origin

USA

Source

Store

Price
Cash point

South Korea
5500 (Permanent)

Price in match

$5000

Statistics
Base damage

29

Accuracy

89%

Recoil

13%

Rate of fire

92%

Percentage speed reduction

16%

Knockback Power

Low

Stun Power

High

Magazine Size

30 / 90

Fire Mode

Automatic

Ammunition
Reload Time

3.5 seconds

Secondary fire / Modes

TURBULENT Engine System

Affiliation
Used by

Human

Others
System name

turbulent5
TURBULENT-5 is an assault rifle in Counter-Strike Online.
Overview
This is an assault rifle fed with 30 rounds of 7.62 NATO based on the M14 EBR. It is equipped with TURBULENT Engine System that enhance its rate of fire.
Advantages
Very high rate of fire
Acceptable damage
High accuracy
Low recoil
Disadvantages
Heavy weight
Quite long reload time
Release date
South Korea: 9 February 2017.
TaiwanChina/Hong Kong/China: 14 February.
Japan: 15 February 2017.
Comparison to M14 EBR
Positive
Lower recoil (+11%)
Higher rate of fire (+3%)
Higher magazine size (+10)
Higher accuracy (+3%)
Neutral
Same weight (16%)
Same reserved and ammo type (90/7.62 NATO)
Negative
More expensive (+$3600)
Lower damage (-11)
Longer reload time (+0.5 second)
Gallery
Firing sound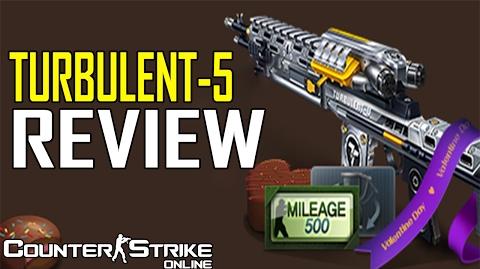 Trivia
Which Buff Weapon do you want the most?
Ad blocker interference detected!
Wikia is a free-to-use site that makes money from advertising. We have a modified experience for viewers using ad blockers

Wikia is not accessible if you've made further modifications. Remove the custom ad blocker rule(s) and the page will load as expected.