TURBULENT-7
Game(s)
Overview
Aliases

HK23E Turbulent
怒海驚瀾TURBULENT-7 (TW/HK)

Type
Added since

South Korea
3 November 2016

Taiwan/Hong Kong
8 November 2016

China/Japan
23 November 2016

Indonesia
25 January 2017

CSNZ
10 May 2017

Origin

Germany

Source
Price
Cash point

South Korea
3000 (100 days)
12500 (Permanent)

Price in match

$5000

Statistics
Base damage

29

Accuracy

79%

Recoil

19%

Rate of fire

92%

Percentage speed reduction

11%

Knockback Power

Low

Stun Power

High

Magazine Size

100 / 200

Fire Mode

Automatic

Ammunition
Reload Time

4.0 seconds

Secondary fire / Modes

TURBULENT Engine System

Affiliation
Used by
Others
System name

turbulent7
TURBULENT-7 is an anti-zombie machine gun in Counter-Strike Online.
Overview
This item can be obtained for 700 days after logging in for 25 days cumulatively. It is also can be purchased directly from shop for a limited time for 100 days or permanently.
This is a 100 rounds light machine gun equipped with the TURBULENT Engine System for a fast continuous shooting. Its rate of fire is as high as submachine gun and the damage is upgraded from HK23E.
Advantages
Very high rate of fire
Light weight
Short reload time
High damage to zombies
Low recoil
Disadvantages
Easily runs dry
Expensive price
Big muzzle flash that blocks aim while firing
Low magazine size for a machine gun
Tips
TURBULENT-7 has a very high rate of fire and high damage. It is very good for kill-stealing in Zombie mode.
When fired to zombies, the zombies will experience massive blood loss effect.
Crouch, aim for the guts and keep firing. The bullets can fly up to head and give a headshot.
Release date
South Korea: 3 November 2016.
Taiwan/Hong Kong: 8 November 2016.
China/Japan: 23 November 2016.
Indonesia: 25 January 2017.
Comparison to HK23E
Positive
Higher damage (+2)
Higher rate of fire (+2%)
Neutral
Same speed reduction (11%)
Same magazine size (100 / 200)
Same ammo type (5.56 mm)
Same reload time (4.0 seconds)
Negative
More expensive (+$400)
Less accurate (-1%)
Higher recoil (+1%)
Gallery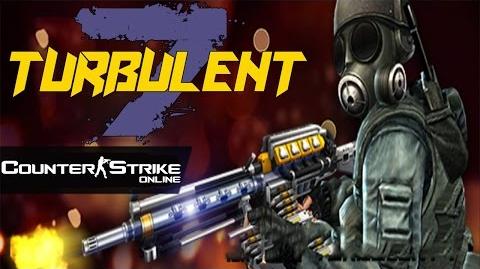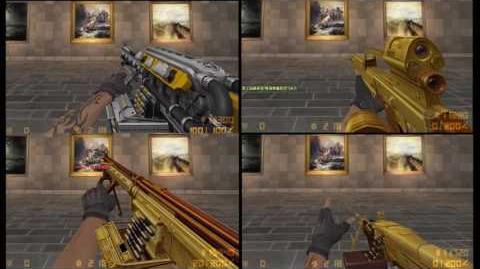 Shoot sound
Trivia