TURBULENT-9
Game(s)
CSO
Overview
Aliases

狼魂亞德曼 TURBULENT-9 (TW/HK) TB-9

Type
Added since

South Korea
13 July 2017

Taiwan/Hong Kong
25 July 2017

China/Japan
26 July 2017

Indonesia
20 Sept 2017

CSN:Z
14 Mar 2018

Source

Store

Price
Cash point

South Korea
5500 (Permanent)

Statistics
Base damage
Percentage speed reduction

0%

Knockback Power

Low

Stun Power

High

Secondary fire / Modes

TURBULENT Engine System

Affiliation
Used by

Human

Others
System name

turbulent9

TURBULENT-9 is a melee weapon in Counter-Strike Online.
Overview
It is a gauntlet-type close-up claw that gives strong destructive power. Equipped with TURBULENT Engine System in 2nd mode and using the blade attached to the Gauntlet. Fast continuous attack is possible.
Release date
South Korea: 13 July 2017.
Taiwan/Hong Kong: 25 July 2017.
China/Japan: 26 July 2017.
Indonesia: 20 September 2017.
CSNZ: 14 March 2018.
Tips
Overall
Heavily resembles Dual Wakizashi in term of mechanics, TURBULENT-9 has an instant double slash in primary mode and delayed triple slash in secondary mode. Each hit deals 40 damage for human and 500 for zombies without the armor.
Primary attack deals 80 damage and 1000 damage to humans and zombies respectively and the secondary attack deals 120 damage and 1500 damage respectively. Backstab and headshot increases the damage of hit four times fold.
The maximum damage that can be inflicted is 6000 (secondary attack, backstab, Deadly Shot).
Since this melee weapon has a short attack range, it is recommended for direct confrontation with the zombies.
Users
Gallery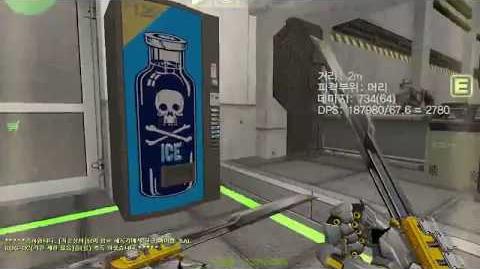 Trivia
This weapon alongside SKULL-9 and Green Dragon Blade deals the same damage for both primary and secondary attacks.
Most of the sounds are similar to the Dragon Knife's.
The animation of this weapon's primary attack heavily resembles of the Dragon Claw.
The maximum range can reach is 2 meters.
Its B Mode style is nearly similar to BALROG-IX's.
Even though the B Mode Animation shows the 3-hit-stab, the given damage is actually 6 hits.