Top 50 Decoder


Type
Effects
Give a random weapon for permanent or in duration.
Source
Cost to buy
South Korea
1100 (1 unit)
9900 (10 units)
28900 (30 units)

Indonesia
6500 (1 unit)
65000 (10 units)

Date added
South Korea
29 December 2016

Taiwan/Hong Kong
3 January 2017

China
4 January 2017

Japan
18 January 2017

Indonesia/CSN:Z
8 February 2017
Top 50 Decoder is a cash item in Counter-Strike Online.
Overview
A device used to decode a Coded Box. When used, a random weapon in Top 50 list can be obtained for permanent or period of 7, 30 or 100 days. 15 Mileage Points will be awarded upon use.
Release date
South Korea: 29 December 2016.
Taiwan/Hong Kong: 3 January 2017
China: 4 January 2017
Japan: 18 January 2017
Indonesia/CSN:Z: 8 February 2017
Available weapons
Event
These weapons are the "special guests" that only appeared during their first release and removed two weeks afterward. The weapons return after 6 months of its initial release and available permanently afterwards except for Red Dragon Cannon which is only available for 2 weeks. The weapons are also added to Mileage Auction.
Top 50 Decoder
Premium
Removed
Loot changes
South Korea
Gallery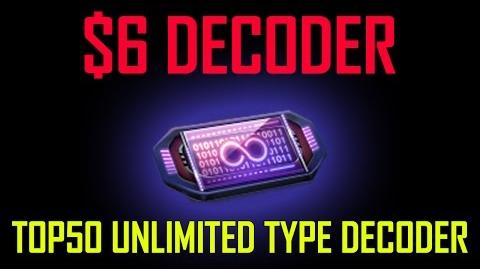 Ad blocker interference detected!
Wikia is a free-to-use site that makes money from advertising. We have a modified experience for viewers using ad blockers

Wikia is not accessible if you've made further modifications. Remove the custom ad blocker rule(s) and the page will load as expected.