War Fan
Game(s)
CSO
Overview
Aliases

Iron Fan

Type
Added since

South Korea
3 November 2016

Taiwan/Hong Kong
8 November 2016

China/Japan
9 November 2016

Indonesia
15 February 2017

CSN:Z
24 May 2017

Origin

Japan

Source
Price
Price in match

$0

Statistics
Percentage speed reduction

0%

Knockback Power

High

Stun Power

Low

Secondary fire / Modes

Affiliation
Used by
Others
System name

ironfan
War Fan is a melee weapon in Counter-Strike Online.
Overview
This item can be obtained from Mileage Decoder.
A Japanese war fan that is designed for use in warfare, used by the samurai class of feudal Japan. It is made from iron and can be folded to make a powerful attack in the form of a fold. When opened, it can blow away enemies in the air. Each attack is slow, but if the is timing well, you can maximize the effect by attacking continuously.
Advantages
Can do a longer attack when use combination attack
Decent damage
Free of charge
Disadvantages
Rarely obtained from Mileage Decoder
Require to master the combination keys
Low attack rate
Release date
South Korea: 3 November 2016.
Taiwan/Hong Kong: 8 November 2016.
China/Japan: 9 November 2016.
Indonesia: 8 February 2017.
CSNZ: 24 May 2017.
Gallery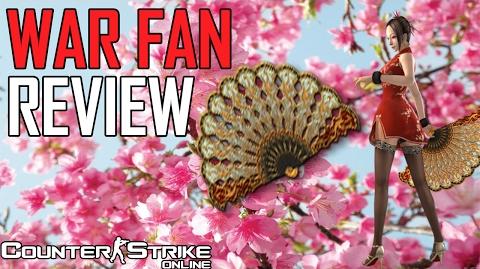 Which Battle Weapons is your favorite?
Ad blocker interference detected!
Wikia is a free-to-use site that makes money from advertising. We have a modified experience for viewers using ad blockers

Wikia is not accessible if you've made further modifications. Remove the custom ad blocker rule(s) and the page will load as expected.