Zombie Scenario is the second game mode introduced by NEXON Corporation for Counter-Strike Online based on a custom game mode for Counter-Strike known as Zombie Riot.
Overview
Zombie Scenario pits up to 10 players against increasingly hordes of AI-controlled Zombies. Money cap is doubled in this scenario and the amount obtained varies between types of zombies killed and the difficulty of the map. Extra health, damage and barrier durability can also be bought off the buy menu if the player have obtained a sufficient amount of money. The rounds will keep getting harder with different powerful zombies spawning in.
Updates
Zombie Scenario is included in the Re:boot update, which completely overhauls its old system and adds new features :
Difficulty level
Automated firepower, health points (with partial restoration) and armor upgrade upon levelling up
Rewards after annihilating bosses
Buy menu/check point improvement
Adjusted respawn time for players of different levels
Added character stats
2018 Reboot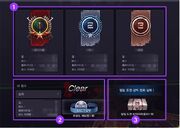 Zombie scenario reboot balance modification (applied map
Weapon exchange is not possible in HARD difficulty.
In HARD 3 and above, zombie skills have been given an instant attributes.
You can resist boss skill through resistance cues.
Zombie scenario reboot correction (applied map

Last Clue, Panic Room, Omen)
Parts from the Part System can be obtained in HARD modes.
An optional parts box is added to existing daily compensation.
Excellent rewards will be paid to the best players .
Crazy Zombie Scenario event
This is a special event which is applied for Memories chapter:
Only applied for Memories map during event period.
Player's movement speed is increased, and be provided with unlimited spare ammo.
Every 60 seconds, up to 3 Pierrots will summon randomly.
After destroying the Pierrot, 5 random bonus weapons will be dropped randomly.
Bonus weapons can be used in event map only and will not be saved into inventories.
All relating medals and league score are not counted in this event.
Seasons
There are 6 seasons so far in Zombie Scenario mode (noted that extra maps are excluded in the chapters below):
Honor missions
| Mission | Task |
| --- | --- |
| [Asura] | Finish Zombie Scenario season 1 to 3 in order. |
| [Killing Machine] | Kill 10,000 zombies in one round. |
| [Undertaker] | Kill a total of 1,000,000 zombies. |
| [Treasure Hunter] | Accumulate 100,000 points from Zombie Scenario Supply Box. |
Trivia
In Japan region, this mode is named as Zombie Survival.
Pressing the Auto-Buy button (

F1

) will select the most recommended primary weapon including its ammunition. Unlike normal matches, Kevlar is not included for Auto-Buy inputs even the player has still remaining in-game money which sufficient to spent for.
It is possible to apply wallbang for killing zombies or breaking a marked wall through some certain positions.