See Zombie Shelter: Coop/Team Match for new update.
Zombie Shelter is a mode available starting on January 17,2013 in Counter-Strike Online Korea and newly patched for Indonesia on September 11, 2013 and Singapore/Malaysia on October 23,2013.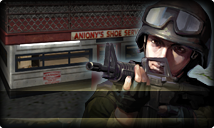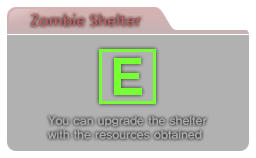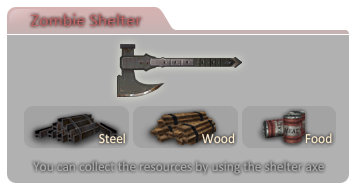 Overview
You should collect resources to upgrade your shelter and survive the zombies attack in this mode. Make a radio call within the time limit and request for rescue. Destroy the enemy's shelter to prevent upgrading of the shelter and request for rescue.
Gameplay
The objective of the mode is to win by calling backup from a radio. This can be done by collecting resources after fully upgrading your shelter. The game will be divided into two parts during a round, Day and Night.
During the day, the players will have to collect resources (wood and metal) scattered around the map. These resources will be the most essential object in the game as you will need it to upgrade your shelter. Beware of the time limit and other players as they will try to steal your resources and/or attack you.
During the night, the zombies will start attacking each player's shelter. You will need to defend yourself for this.
As time passes, your hunger meter will decrease. If it reaches zero, your health eventually decrease as well until your death. It is advisable to keep your hunger meter full.
Also, zombies move slower during the day but run faster during the night. Money can be obtained by killing zombies and other humans.
Compatible maps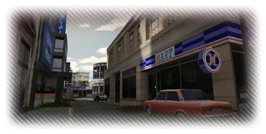 Upgrades
Tips
Items
There are items which will be helpful:
NOTE: All guns consists of only 1 magazine, use it wisely.
Transcripts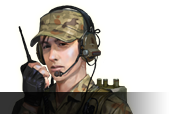 That place is like living hell.. How on earth will there be survivors.. I can't believe it!
There are more survivors; however, only 1 survivor will be able to rescue at a time due to lack of fuel.
A rescue helicopter will be send out to the first survivor's shelter who has successfully sent out his location.
Search around the police car area that destroyed by the zombies.
You will be able to find a useful weapon.
Tip: There are collectable wood and steel around the shelter.
Tip: Upgrade your collection tool for a safe resource collection.
Tip: Lots of zombie will be active at night. Use your stationary weapon that is located inside the shelter!
Tip: You can recharge the bullets of stationary weapon through upgrade.
Achievements
Special mission
| Appointer | Task | Reward |
| --- | --- | --- |
| | Kill 300 zombies in Zombie Shelter | A random cash weapon or point coupon |
Gallery
Start
Night background music
Dead
Survival
Escape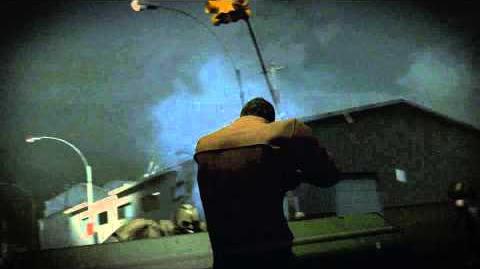 Trivia